<!——StartFragment——>
Arcata Ballpark has seen its fair share of excitement over the summer and this week was no exception. A winning streak extended to 11 games, pitchers took to the field as position players, a player sang the national anthem and a home run record fell as the season started to wind down for the Humboldt Crabs.
The week started off with a glorious Tuesday night at the ballpark, featuring a sunset straight out of a classic baseball movie and home runs courtesy of the Crabs Ethan Fischel and Gabe Giosso on the way to a 15-2 victory over the visiting Prescott Roadrunners. Once again, the Crabs took a convincing win behind reliable pitching backed up by the strength of their bats. Adam Walker started the game for the Crabs, striking out 10 batters and giving up just two runs while Fischel and Giosso powered in eight combined runs for the team.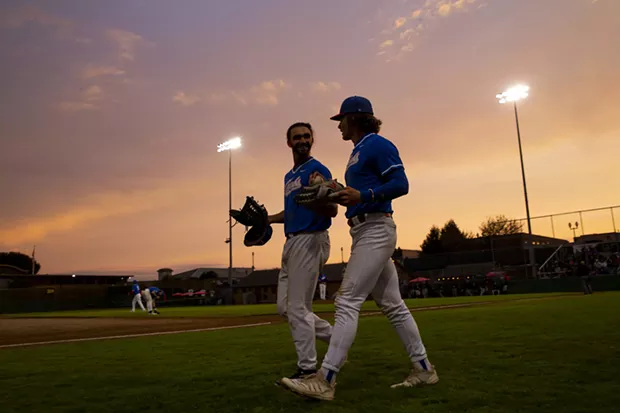 Thomas Lal
Outfielders Tyler Ganus (Left) and Josh Lauck (Right) head out to take the field as the sun begins to set over Arcata Ballpark on July 27, 2021.
<!——EndFragment——>
<!——StartFragment——>
Tuesday was also the day that the Crabs said goodbye to their usual Sunday starting pitcher Owen Stevenson as the freshman was offered an opportunity to play in the prestigious Cape Cod League for the Yarmouth-Dennis Red Sox for the remainder of the summer. Stevenson pitched extremely well for the Crabs this season, finishing with a .692 ERA and striking out 49 batters.
"Honestly, just a great experience," Stevenson said Tuesday night about his time with the Crabs. "I loved every moment of it. The Crabs, just the team atmosphere was awesome. The coaches were great. The fans were great. I was able to just kind of gain some confidence from Guiver allowing me to go out every Sunday, establish my routine and get into a groove. And once I got that groove, I was able to figure a lot of things out pitching-wise. And I think that's where most of my success came from was having that routine every week. Even working with the trainers, too. The trainers helped me so much."
Crabs Manager Robin Guiver was understandably bummed to see Stevenson go, but happy to see the opportunity that the young pitcher has to play in a league that has seen more than 1,400 players go on to play in the MLB over the years, including current big names such as Aaron Judge and Pete Alonso.
"Owen has been as good as any pitcher we've had all summer," Guiver said. "And I supported him leaving. Getting a chance to pitch in the Cape Cod is a huge deal. If it was me or my kids, I'd want to do it. That's about the only place I'd be okay with him leaving to go."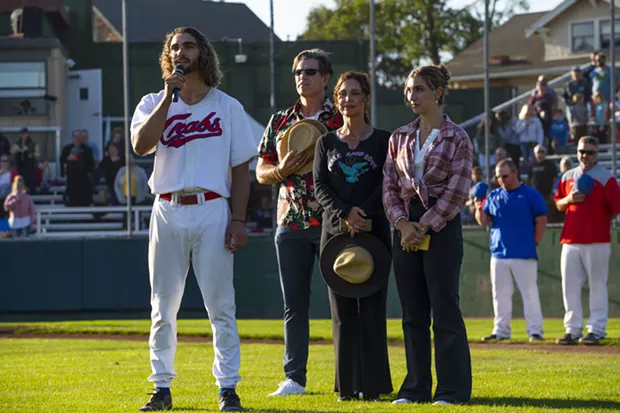 Thomas Lal
Crabs outfielder Tyler Ganus sings the national anthem with his family on the field with him ahead of the Crabs' game against the Prescott Roadrunners on July 28, 2021.
Wednesday was yet another Crabs win over the Roadrunners, headlined by a Josh Lauck grand slam and yet another Fischel bomb to secure the victory behind starting pitcher Caleb Ruiz. The pregame buildup also featured the Crabs' own Tyler Ganus singing the national anthem with his family on the field bedside him. Ganus, who is a music major at University of Oregon in addition to being a baseball player and actor, was applauded by fans, teammates and family after his performance.


Lauck's grand slam was his first hit after coming back into the lineup after having his finger cut by a spike during a game. The outfielder was happy to be back on the field doing what he does best for the Crabs.
Thomas Lal
Crabs outfielder Josh Lauck celebrates with teammates at home plate after hitting a grand slam against the Prescott Roadrunners on July 28, 2021.
"First hit back, there's nothing like it," Lauck said. "You have a little clouded mind when you come back a little bit. And it's been a couple weeks since you hit. So that at bat, I was just like, 'Let's just clear it.' ... It felt good. It was awesome."
The Crabs rolled off two more wins to start the weekend against the Fresno A's, who unfortunately came into town missing a significant portion of their roster due to a COVID-19 outbreak among the team earlier in July. The Crabs wrapped the series on Sunday in a game that saw the wood bat team home run record fall. Andrew Allanson hit one to tie the record and Eureka High School alum Aidan Morris did the honors of breaking the record by hitting the teams 41st home run.
"It was cool to see Aidan get it," Guiver said after Sunday's game. "Andrew Allanson had a big one, too. Aidan was our eighth hitter and Andrew was our fifth hitter today and they're hitting home runs, so it just kind of shows the depth we have in our lineup. We can leave the yard anywhere in our lineup, which is fun for us, not so fun for the other pitcher."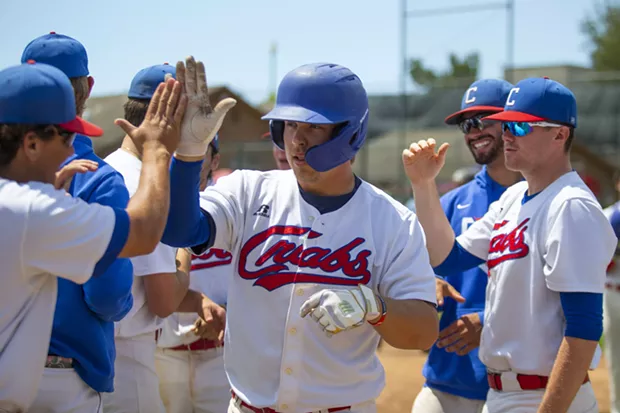 Thomas Lal
Crabs outfielder Aidan Morris is congratulated by teammates after hitting the team's 41st home run of the season, breaking the single season wood bat record for the team as a whole on August 1, 2021 at Arcata Ballpark.
With only one more week remaining in the season, players have already begun to think about returning to their schools and, for Fischel, who grew up watching the Crabs play, to enjoy the last handful of games as a team.
"One hundred perfect everything I could have dreamed of as a kid watching the Crabs," Fischel said. "Being at those ball games on Friday nights or Saturday nights. I couldn't probably come midweek because it was school nights. But it's everything I could have dreamed of, playing out here in front of the fans and with my teammates. I love it. I love it so far and we'll see about next summer, but I'm just going to enjoy the moment right now, that's for sure."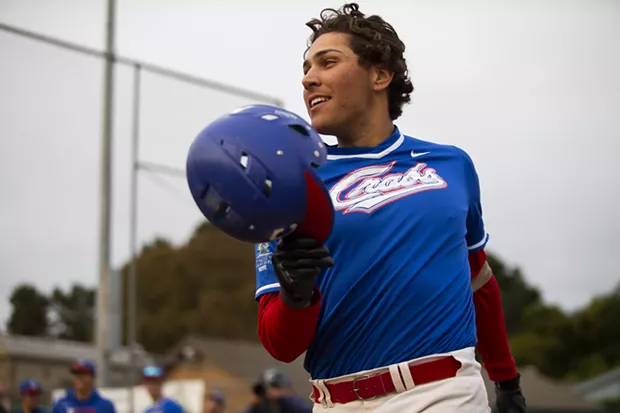 Thomas Lal
Second baseman Ethan Fischel crosses home plate after hitting a home run against the Prescott Roadrunners on July 27, 2021.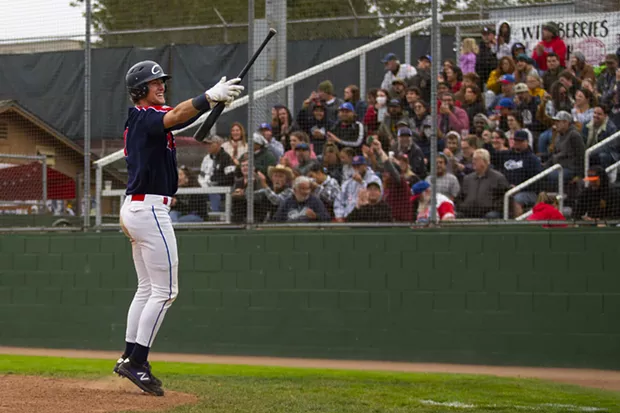 Thomas Lal
Crabs outfielder Luke Powell celebrates with the crowd after scoring against the Fresno A's on July 30, 2021 at Arcata Ballpark.
<!——EndFragment——>