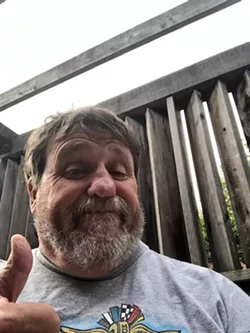 Rex Bohn/Facebook
"I'm good for now and planning on staying that way," First District Supervisor Rex Bohn wrote on Facebook after getting a positive COVID-19 case, adding that because he is fully vaccinated he feels protected against severe illness.
Humboldt County First District Supervisor Rex Bohn has tested positive for COVID-19, he
announced
on Facebook this morning.
"Have not had symptoms just tested at the Wharfinger for my own knowledge as I have a lot of interactions and it takes less than five minutes," Bohn wrote.
In the post, Bohn said he feels "fine" and doesn't expect to experience severe symptoms because he's fully vaccinated, which data indicates is incredibly effective in preventing severe illness, hospitalization and death. Bohn said he's consulted with Health Officer Ian Hoffman and St. Joseph Health CEO Roberta Luskin-Hawk after getting the positive test result.
"Both Drs said since I was VACCINATED I am not gonna DIE (again big plus)," he wrote, adding symptoms "should be mild."
Bohn posted his announcement at 8:47 a.m. today, shortly before the Humboldt County Board of Supervisors was set to meet in a special virtual session to reconsider its recent decision to resume in-person board meetings in light of a recent surge in cases that has seen 327 new cases confirmed this week. At a press conference Wednesday, Hoffman said the recent surge is being fueled by the highly contagious Delta variant and Luskin-Hawk said she is concerned about hospital capacity, noting that hospitalization rates are higher than at any point in the pandemic to date.
Hoffman also said that approximately 25 percent of the roughly 550 cases confirmed in Humboldt County last month were so-called breakthrough cases of fully vaccinated individuals, though he said they resulted in "only a very small number" of hospitalizations.
In his post, Bohn, who has increasingly raised the alarm about local COVID case numbers and urged residents to get vaccinated, mentioned this morning's board meeting but did not indicate whether he planned to attend.
"We are having an emergency board meeting today regarding COVID," he wrote. "I am hearing numbers are alarming. I'm good for now and planning on staying that way. If you want to say a prayer please let it be for those who are having serious complications or our friends to the east facing these horrendous fires."