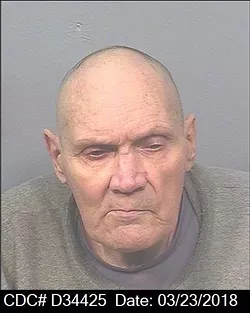 CDCR
Curtis Floyd Price
Curtis Floyd Price, an Aryan Brotherhood hitman who was one of two Humboldt County men sitting on California's death row, died in custody early this morning, according to the California Department of Corrections.
According to a press release from the state, Price died of natural causes, though an exact cause of death remains pending, to be determined by the Marin County Coroner.
Price, 74, was convicted in 1986 for the murders of Elizabeth Ann Hickey, who was beaten to death in her Humboldt County home, and Richard Barnes, a witness who was killed execution style in his Los Angeles home after testifying against the Aryan Brotherhood, of which Price was a member. Price was reportedly ordered by Aryan Brotherhood leadership to carry out Barnes' killing, and prosecutors argued he later killed Hickey to prevent her from implicating him in Barnes' murder.
According to a 2006
story
in the
Times-Standard
after Price was stabbed on the yard at San Quentin, suffering wounds to his throat, cheek and head, Price was also accused of killing two fellow inmates while in prison.
While Price had remained on death row, Gov. Gavin Newsom had halted executions during his tenure as governor.
See the full press release from the CDCR copied below:
Condemned Inmate Curtis Price Dies of Natural Causes
AUGUST 17, 2021
SAN QUENTIN – Condemned inmate Curtis Price, 74, on California's death row from Humboldt County, expectedly passed away on Aug. 17 at 1:50 a.m. at San Quentin State Prison. An exact cause of death will be determined by the Marin County Coroner.

Price was found guilty of first-degree murder, robbery, and first-degree burglary by a Humboldt County court and sentenced to death on July 10, 1986. Price was also sentenced to life with parole for first-degree murder.

There are currently 698 people on California's death row. More information about capital punishment in California can be found here: https://www.cdcr.ca.gov/capital-punishment/