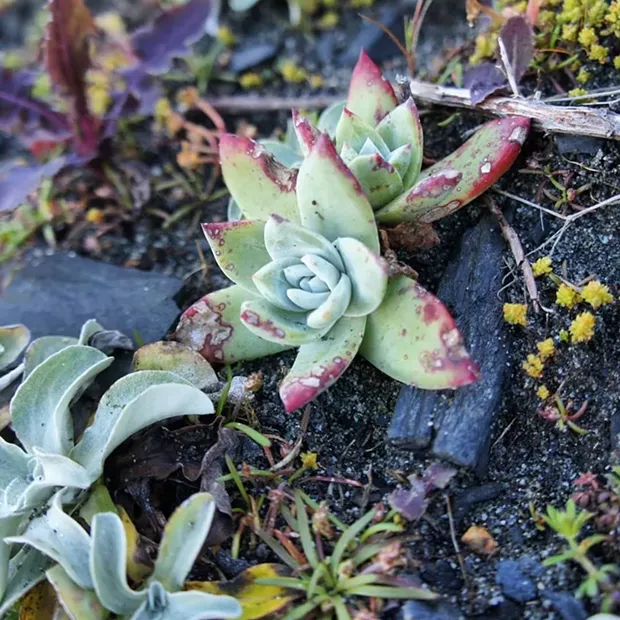 California State Parks
One of the pilfered succulents replanted in Humboldt County.
A California bill aimed at protecting dudleya, sometimes called "live-forevers," from the international black market by imposing stiff fines for illegally taking the succulents from public and private lands is now sitting on Gov. Gavin Newsom's desk.

The bill authored by Assembymember Chris Ward (D-San Diego) and sponsored by the California Native Plant Society comes in response to a cascade of poaching incidents involving the plants, some of which are rare, that can fetch lucrative sums — anywhere from two figures to four figures — from the right buyer.
"What is happening to California's dudleya follows a disturbing trend in the international trade of plants and animals," said CNPS Conservation Program Director Nick Jensen in a news release. "Whether we are talking about the ivory tusks of elephants, shark fins, or beautiful and charismatic plants like dudleya, when we put a price on living creatures, we put targets on their backs. Some dudleya are known from one or very few populations and poaching for the international market can send these imperiled species to extinction."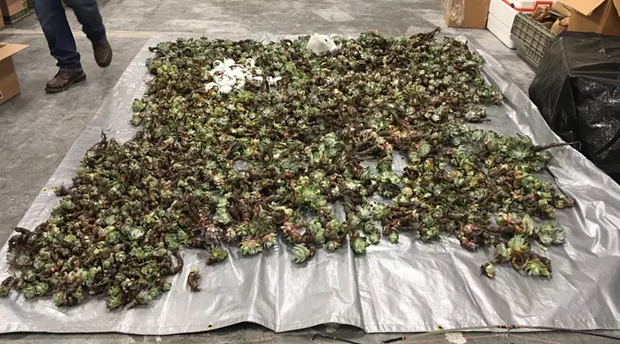 Courtesy of CDFW
Succulent poaching is on the rise, CDFW officials say, with some 2,300 recovered in Humboldt County in 2018.
One such smuggling operation involving thousands of the plants worth an estimated $90,000 was uncovered in Humboldt County back in April of 2018 after California Department of Fish and Wildlife officials acting on a tip intercepted boxes of dudleya prepped to be shipped overseas and recovered more specimens while searching a Trinidad hotel room.
California State Parks
Volunteers and Redwood National and State Parks representatives replant the stolen succulents in April of 2018.
Three people were arrested and later pleaded guilty to felony and misdemeanor charges, including conspiracy and stealing plants from public lands. The pilfered dudleya were later replanted along local cliffs by a team of volunteers and parks employees. (Read previous Journal coverage here, here and here.)
If signed by Newsom within 12 days, AB 223 will make it unlawful to sell or possess with the intent to sell any dudleya illegally taken from its natural habitat, with minimum penalties of $5,000 and up to $50,000 for the first offense and $10,000 to $500,000 for subsequent offenses.
"The illegal poaching of the California dudleya plant is removing thousands of these sensitive, native species from our state's wildlands" Ward said in a June news release from his office. "AB 223 will assist in deterring dudleya poaching, establish clear enforcement guidelines for law enforcement, and give populations of this native plant species an opportunity to recover."
Read the full CNPA release below:
Today, the state legislature approved the CNPS-sponsored Assembly Bill (AB) 223 in an important step to combat the rampant poaching of California's native succulents known as dudleya. The bill, authored by San Diego Assemblymember Chris Ward, is the first California bill specifically drafted to protect plants from poaching. AB 223 makes it illegal to harvest dudleya in California without permits or landowner permission, and establishes penalties for individuals convicted of doing so. Dudleya (aka liveforevers) live in rocky habitats statewide. Home to 42 of 68 species and subspecies in the genus, California is the epicenter of dudleya diversity, many of which are rare. Ten species are listed as threatened or endangered by the state and/or federal governments.

In recent years, law enforcement officials have documented an alarming increase in the illegal commercial-scale harvest of dudleya, with entire hillsides stripped of plants by poachers. While law enforcement officials have seized tens of thousands of plants destined for export and sale, experts fear that this is only a small fraction of the dudleya that have been taken from the wild. Some mature dudleya plants may be as old as 100 years and serve important functions in ecosystems from stabilizing cliffs against erosion to providing food for animals and nectar for pollinators. Individual dudleya can sell for anywhere from $30 to $1,000 on the international market.

"What is happening to California's dudleya follows a disturbing trend in the international trade of plants and animals," said CNPS Conservation Program Director, Dr. Nick Jensen. "Whether we are talking about the ivory tusks of elephants, shark fins, or beautiful and charismatic plants like dudleya, when we put a price on living creatures, we put targets on their backs. Some dudleya are known from one or very few populations and poaching for the international market can send these imperiled species to extinction."

CNPS is grateful for the leadership of Assemblymember Ward in authoring and guiding AB 223 through the legislature. The bill provides law enforcement officials and district attorneys with the tools they need to effectively deter future poaching operations.

"AB 223 is an important step toward protecting this precious and irreplaceable portion of our state's world-renowned botanical heritage," said Jensen. "We urge Governor Newsom to sign this bill into law and put a stop to the illegal trade in dudleya."

<!—EndFragment—>