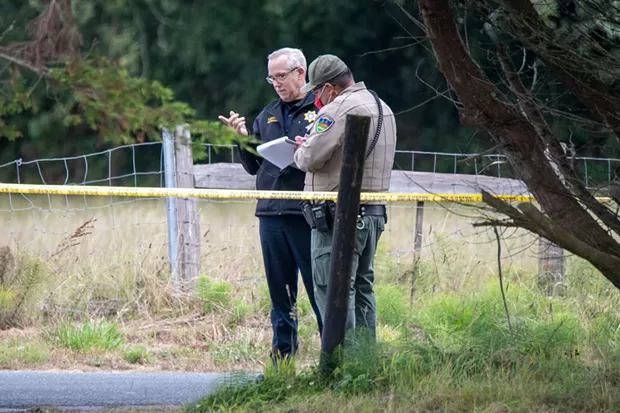 Mark McKenna
The scene of a police shooting of an unidentified man on Mad River Road.
Humboldt County Sheriff William Honsal said officers had been using de-escalation techniques for 15 minutes with an armed suspect on Mad River Road this morning when he brandished the firearm and was
fatally shot
.
Flanked by local California Highway Patrol command staff and Arcata Police Chief Brian Ahearn, and standing before a small group of reporters just up the road from where the shooting occurred, Honsal said the multi-agency Critical Incident Response Team investigation remains in its very early stages. He said it's not currently known how many officers fired their weapons, how many shots were fired during the incident or how many times the suspect was hit.
"We're not going to release a whole lot of information because we don't know a whole lot," Honsal said.
The sheriff said a CHP unit was the first on scene responding to a 911 call reporting a suspicious man with a firearm on Hendon Road near Miller Lane. The officer located a suspect matching the description — a white male adult in his early 30s wearing a leather jacket with a pistol in a holster on his hip — at 11:05 a.m. in the 1000 block of Mad River Road. Additional patrol cars from CHP and the Arcata Police Department also arrived on scene within minutes.
The officers tried "de-escalation techniques," Honsal said, but the man ignored their commands and kept walking down Mad River Road toward Mad River Beach. Multiple people who live along the road told the
Journal
this morning they saw a slow procession of officers — some walking alongside creeping patrol cars with guns drawn taking cover behind their passenger-side doors, and others in their vehicles — following the man, urging him to drop a briefcase he was caring and follow their commands. But the man reportedly did not comply and kept walking, at times walking backward while talking to the officers, telling them to leave him alone.
This continued for about a quarter-mile, Honsal said, adding that about 15 minutes passed between officers' first contact with the man and when they shot him. The man was pronounced dead at a local hospital 52 minutes after officers made first contact with him, according to the timeline offered by Honsal.
The shooting was captured on video from both dash-mounted patrol car and body-worn cameras, Honsal said. Officers on scene had less-than-lethal weapons at their disposal, Honsal said, though whether any were used and to what extent is still under investigation.
While early reports today questioned whether the shooting was potentially related to the search for Matthew Dilley, 34, a wanted fugitive who fled deputies earlier in the morning in a high-speed chase before abandoning his car on North Bank Road, Honsal said he does not believe so.
As Honsal spoke, evidence technicians from multiple agencies — including the California Department of Justice — processed the scene of the shooting, which remained cordoned off with yellow tape, for evidence. Inside, a line of police vehicles involved in the incident — two APD patrol cars sandwiched between CHP cars — remained parked in a row, with a flurry of evidence markers and discarded emergency medical debris, sitting about 100 feet in front of the first vehicle.
Under the county's Critical Incident Response Team protocol, the Sheriff's Office and the Humboldt County District Attorney's Office are co-leading the investigation, with aid from a variety of local agencies and the DOJ.
Honsal closed the press briefing by noting it had been an "extraordinarily busy" day for his agency, adding he feels there has been an escalation in violence in Humboldt County.
"The violent crime rate continues to go up and up and up," he said.
Watch a full video of the press conference and find a slideshow of photos from the scene below.
18 slides