Facebook
Robert Anderson.
The Del Norte County Sheriff's Office has released body-worn camera footage that shows police officers fatally shooting Robert Anderson on Aug. 25 after he lunged at an officer with a kitchen knife and sprinted toward a woman at the scene.
Police who responded to the 911 call on Parkway Drive and Sherwood Lane at about 2:45 p.m. on Aug. 25 reporting a disabled vehicle in the roadway reported arriving to find Anderson, 38, holding a knife and "walking in the traffic lanes."
A press release from the Del Norte County Sheriff's Office issued that day states, "The male subject advanced toward the officers and an officer-involved shooting occurred. The subject died as a result of the incident." In the ensuing days, the woman at the scene, Sequoia Annette, who identified herself as Anderson's wife, disputed the Sheriff's Office account on social media, saying he "got shot while running towards me" and there "was no reason for him to die on the ground the way he did period." Anderson, who was Black, would not have been shot if he had been white, she wrote.
On Sept. 2, the
North Coast Journal
filed California Public Records Act requests with the California Highway Patrol and the Del Norte County Sheriff's Office seeking video footage of the shooting. On Sept. 11, the Sheriff's Office responded, saying that a couple of hours earlier it had posted two videos pulled from the body-worn cameras of deputies at the scene and posted them online. The CHP, meanwhile, said it will not release its video footage of the incident until next month, saying doing so now could jeopardize an investigation into Anderson's death.
The two videos released by the Del Norte Sheriff's Office — one 14 minutes and 30 second long, the other just about 16 minutes long — depict deputies and CHP officers speaking with Anderson, who appears to be in emotional distress, standing barefoot in the grass on the roadway's shoulder, with a white van parked about 100 yards away. The videos show the incident from much the same angle, as they were pulled from deputies standing side-by-side, just a few feet apart. The videos combine to depict about four minutes and 45 seconds of officers' interactions with Anderson before shots were fired, though it's unclear how long before the first video begins officers had initiated contact with Anderson.
screenshot
An officer speaks with Robert Anderson.
In the first video, a deputy arrives and approaches a CHP officer, who advises him that Anderson has a "pretty good size kitchen knife" that he's refused to drop, but agreed to put in the pocket of his sweatshirt for the time being. The officer says a woman is on scene who is "pretty beat up," and that Anderson has admitted being involved in a domestic violence incident the night before. As the officer in the second video approaches the scene, she passes the woman, who is standing next the van, appearing to record the incident on her cell phone, a black eye and bruises visible on her face.
Three officers are visible, talking to Anderson, as the first video begins. None have their guns drawn. At one point, Anderson puts his hands in his pocket and the officers ask him to stop, to which he protests that they are "doing the same thing." One of the officers assures him that they do not have their hands on their weapons and asks him to put the knife down, at which point he does, laying it on the grass next to him.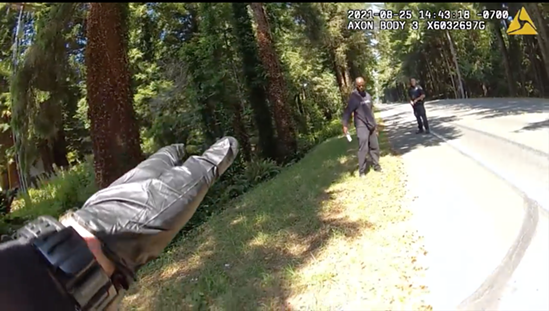 Screenshot
At officers' urging, Robert Anderson puts down the kitchen knife.
"Hey Robert, can we talk about this a little bit more?" an officer immediately to Anderson's left asks. "You wanted to talk about it, right?"
"I mean, can y'all not come near me because I'm not coming near y'all?" Anderson responds.
"What we have is, we want to get away from that knife," the officer answers. "If you want to step over here and talk to us, that'd be fine. We want to be away from that knife."
"We should all be able to have rights to stand where we want to stand, be able to do what we want to do," Anderson says. "Like this is our planet, like this is our planet, and ya'll coming around like this is y'all's and you're taking it from us."
"I understand. We just want to get you away from the knife," a deputy says.
"That's all y'all worried about," Anderson responds, appearing frustrated at officers' focus on the knife lying on the ground next to him. "I'm worried about everything. I lost my whole … look what I just did. It's this matrix we're living in. We've been lied to. We've all been lied to. We've all been lied to."
"Alright," multiple officers respond, before one asks what happened earlier.
screenshot
At points in speaking to officers, Robert Anderson seemed to address a woman at the scene standing down the road.
Anderson then appears to look down the street to the woman on scene, saying, "Baby?" She appears to respond, though what she says is inaudible in the recording. Anderson then takes a step back in the direction of the knife on the ground, at which point officers again urge him to step away.
"Can I stay right here?," he asks, to which a chorus of officers say no.
"Cuz y'all still worried about the knife," Anderson says, growing animated. "Y'all got guns, Tasers and every fucking thing …" Mid sentence, his attention switches to the woman down the street. "That's what I'm saying, baby. That's what I'm saying. The control. That's what I was doing. I came clean. Right? You don't have to forgive me but I'm still coming clean. Like, they ain't coming clean." His attention then returns to the officers: "Like y'all in y'all uniforms and I've been in uniform, too, and when the truth is the truth is the truth is the truth, man. Like, y'all don't even know who running y'all. Or do y'all know? Do y'all know who running y'all?"
He then turns down the street, again appearing to address the woman on scene. "They don't even care about that. That's what I'm saying. All they care about is the knife and I ain't even got the knife. I'm just a man right here."
A deputy again interjects, saying, "We're just asking you if you could step away from the knife for a second, sir."
"And if I step away from the knife, what then?" Anderson asks, before again address the woman, his hands held up pleadingly. "Baby, are you recording this?"
Barely audible in the video, the woman responds: "Baby, you about to go to jail. … You do know that right?"
She pauses for a moment before concluding, "This is absurd."
Screenshot
The video shows Robert Anderson picking up the knife and lunging with it at officers before running down the street toward a woman at the scene, at which point officers fatally shot him.
With that, Anderson's hands fall to his waist and he looks down at the knife for a moment before leaning over, grabbing it and running toward officers, lunging at one with the knife as he passes. The officers appear to duck out of the way as Anderson continues down the street in the direction of the woman, at which point officers fire on Anderson from behind. At least 10 gunshots can be heard as Anderson falls to the street and the woman screams.
The videos continue as officers work to get Anderson handcuffed and administer first aid while waiting for an ambulance to arrive. They talk to him, trying to keep him conscious.
"Don't want you dying out here today," an officer says as ambulance sirens can be heard approaching. "Hey Robert, keeping talking to us. Keep breathing."
The officers count at least seven gunshot wounds but report they have a faint pulse as paramedics arrive and begin life-saving efforts. Anderson died a short time later.
The shooting is being investigated by the California Highway Patrol's Northern Division Critical Incident Investigation Team, the Del Norte County Sheriff's Office, the Del Norte County District Attorney's Office and the California Attorney General's Office.
Anderson, a father of three who'd recently moved to Crescent City from Michigan, where he worked as a bus driver and and was hailed as a "hero" for helping to locate a missing 13-year-old girl, is remembered by a community of loved ones as a "sweet and caring" man.
"Robert Anderson has been rocking with me since Sept. 13, 1996," wrote Kenyetta Segovia on Facebook, one of a bevy of comments left in the wake of his death. "From celebrating promotions, birth of kids to coming to the hospital to pray with me while my mom was on her deathbed. To get on Facebook and see this RIP on his page shattered my heart. We talked about EVERYTHING … Doesn't seem real. Missing him already."
You can watch the videos released by the sheriff's office
here
and
here
. (WARNING: They are graphic and disturbing.)