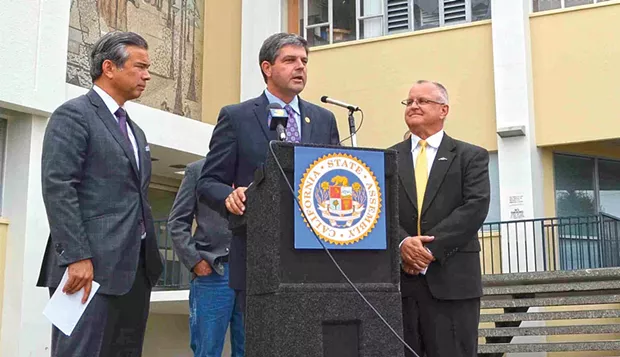 Photo by Grant Scott Goforth
Assemblyman Jim Wood, in October, asking Gov. Jerry Brown to pass statewide medical marijuana reforms.
Gov. Gavin Newsom has signed North Coast Assemblymember Jim Wood's bill creating a wildfire prevention entity in the Office of the State Fire Marshal into law.
"It is clear that we cannot firefight our way out of this wildfire crisis," Wood said in a press release. "California needs both a world-class firefighting force and a world-class fire preparedness and mitigation force with the resources to meet the crucial task at hand."
Under the bill,
Assembly Bill 9
, eight existing programs and duties focused on community fire prevention, preparedness and mitigation efforts currently under CalFire's purview will be shifted to this new branch. The new entity will use block grants and work to support regional entities to develop a pipeline of woodland and fuel reduction projects that are part of a coordinated strategy across the region and state.
"What communities need to do to prevent and prepare for catastrophic wildfire varies tremendously across this diverse state," said Wood. "Housing density, vegetation type and topography are just a few of the many considerations that affect the kinds of work communities must undertake to prepare for the next fire. This bill ensures that strategies be regionally focused to meet the unique needs of each community."
See the full press release from Wood's office below:
Governor Newsom signs bill by Assemblymember Jim Wood

to Create Entity Dedicated to Wildfire Prevention Work

SACRAMENTO— Today, Governor Gavin Newsom signed AB 9 by Assemblymember Jim Wood (D-Santa Rosa), a bill to create a separate entity to accomplish wildfire prevention work.

"During my time in the Legislature, we have had the most devastating wildfires, year after year," said Wood. "And year after year, even though we have increased our firefighting force and resources, wildfire prevention work has had to take a back seat because our resources have been needed virtually full time to fight fires. It's time, and I'm grateful to my colleagues and the Governor for supporting a dedicated workforce and resources that can help plan and accomplish prevention work—vegetation management and home hardening—year round. It's our only way out of this endless cycle of wildfire disasters."

Wildfires have existed in California for centuries; however, the past seven of the state's 10 deadliest fires have occurred since 2017 and have taken the lives of more than 150, including the Camp Fire in 2018 where the fire destroyed 18,804 structures and 85 people lost their lives, devastating the community.

"This year more than 2 million acres have burned, entire communities have been lost, thousands of people's lives have been forever changed, and wildfire season isn't over yet" said Wood. "And to make matters worse, for all the effort California puts into making progress protecting our environment and improving air quality, these wildfires are taking it away from us, and that has to stop," said Wood.

AB 9 creates a new branch within the Office of the State Fire Marshal that will focus exclusively on community fire prevention, preparedness and mitigation efforts of CAL FIRE. It will move eight existing programs and duties currently spread throughout CAL FIRE to this new branch. Additionally, the bill requires that all program staff and leadership dedicated to these programs be the lowest priority workforce to respond to wildfire suppression missions.

"What communities need to do to prevent and prepare for catastrophic wildfire varies tremendously across this diverse state," said Wood. "Housing density, vegetation type and topography are just a few of the many considerations that affect the kinds of work communities must undertake to prepare for the next fire. This bill ensures that strategies be regionally focused to meet the unique needs of each community."

AB 9 codifies the Regional Forest and Fire Capacity Program (RFFC), which received $50 million dollars in the 2021 early budget action. By providing flexible block grants, the RFFC supports regional entities that work with local, state and federal partners to develop a pipeline of wildland and fuel reduction projects that are part of a coordinated strategy across the region and state.

"It is clear that we cannot firefight our way out of this wildfire crisis," said Wood. "California needs both a world-class firefighting force and a world-class fire preparedness and mitigation force with the resources to meet the crucial task at hand."

# # #