Thadeus Greenson
McKinleyville High School students march down Central Avenue after walking out of class in solidarity with victims of sexual assault.
Students walked out of class on at least three Humboldt County high school campuses this morning to stand in solidarity with survivors of sexual assault.
Most wearing white and many holding signs, students at Fortuna, Eureka and McKinleyville high schools participated in the planned walkouts, with Fortuna and McKinleyville students marching the streets surrounding their campuses.
The walkouts come after two separate reports of sexual assault — one involving students at Fortuna High School and the other involving students of another local high school. In a
story published yesterday
, Kym Kemp, an independent local reporter based in Southern Humboldt, details the story of a 15-year-old Fortuna High School student who says she was sexually assaulted by a drunken fellow student who is on the football team shortly after midnight Aug. 8 during a party at Centerville Beach, leaving her "sobbing."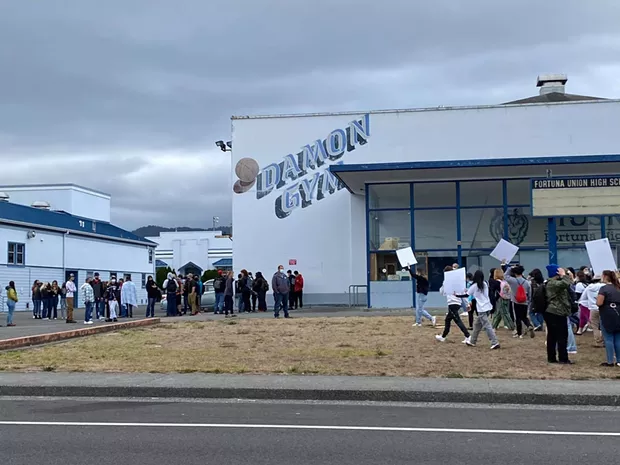 Mark McKenna
Students walk out at Fortuna High School.
The student and her mother told Kemp the assault was reported to Fortuna High School staff by a friend but the staff member did not take action because the friend didn't identify the student who'd been assaulted. District Superintendent Glen Senestraro later told Kemp, "When the school was made aware of these allegations, it is our district policy to notify law enforcement," and that the Humboldt County Sheriff's Office is investigating.
Kemp reported that the student said she personally reported her allegations to the Sheriff's Office on Sept. 23.
In an email responding to an inquiry from the
Journal
, Sheriff's Office spokesperson Samantha Karges confirmed an investigation is underway but declined to provide additional details.
"I can confirm that Sheriff's deputies are conducting an investigation into a reported sexual assault occurring early August at Centerville Beach," she wrote. "Due to the sensitive nature of this case and the involvement of juveniles, we are unable to share any information regarding this investigation at this time."
The student's friends reportedly began planning a walkout at Fortuna High School when they felt the school wasn't taking appropriate action and the incident was being swept "under the rug." Having heard about Fortuna students' plans, a group of cheerleaders at Eureka High School began organizing a similar walkout in solidarity, saying they knew of another incident in which a different local school had failed to support a student who reported having been sexually assaulted by a fellow student. McKinleyville students then also joined in solidarity. All three walkouts occurred shortly after the start of school this morning.
In McKinleyville, a group of about 50 students walked off campus waving signs scrawled with messages like, "No Means No," "Cleavage is Not Consent, Drunk is Not Consent, A Mini Skirt is Not Consent, Alone is Not Consent," "Stop Victim Blaming," "Refuse to be Silenced" and "What Causes Rape? A skirt? A drink? Flirting? RAPISTS." The group marched from campus east on Murray Road before turning down Central Avenue and briefly rallying on a corner across from McKinleyville Middle School before returning to campus.
Thadeus Greenson
Students walking off the McKinleyville High School campus.