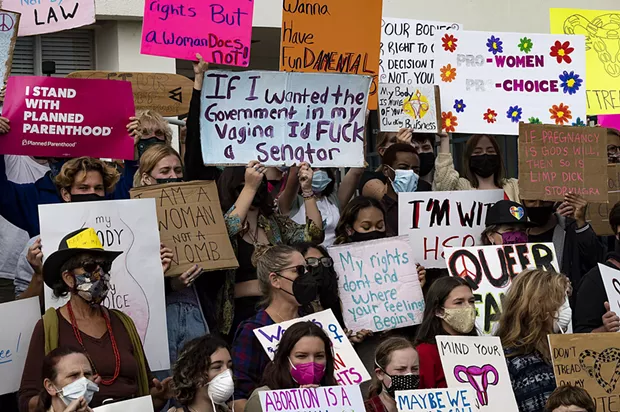 Kris Nagel
Demonstrators occupied the steps of the Humboldt County Courthouse on Saturday, Oct. 2, calling for access to reproductive healthcare everywhere. The Eureka rally was held in solidarity with the National Women's March.
Hundreds descended on the Humboldt County Courthouse lawn yesterday to stand in solidarity with marches and demonstrations taking place in all 50 states to rally for reproductive rights ahead of the U.S. Supreme Court reconvening Monday.
"From local abortion bans being passed in states like Texas and Mississippi to the highest court in our land refusing to defend our constitutional rights — we are witnessing the most direct and dire threats to our reproductive health in our lifetimes," a Facebook post announcing the rally states. "We will make it clear to anti-choice extremists that we will not stand by quietly as they attempt to control our bodies."
Local photographer Kris Nagel was in downtown yesterday and shares the following slideshow of demonstrators and their signs.