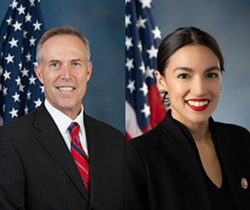 North Coast Representative Jared Huffman will join fellow Representative Alexandria Ocasio-Cortez of New York at a virtual townhall on Friday afternoon with a focus on the "Build Back Better" plan now before Congress.
The $3.5 trillion infrastructure bill would also provide for social services, including free childcare, and add dental coverage to Medicare, as well as invest in clean energy as a measure to fight climate change.
The town hall is scheduled for 2:30 p.m (PST) and particpants can ask questions via Zoom or Facebook video in the comment section. Questions can also be sent ahead of time to huffmanQandA@mail.house.gov or call 415-258-9657 with your name, neighborhood and question.
Read the release from Huffman's office below:
On Friday, October 15 at 2:30pm PT, Representatives Jared Huffman (CA-02) and Alexandria Ocasio-Cortez (NY-14) will be holding a virtual Town Hall. During the event, the congressmembers will discuss their efforts to help the country and the President build back better by making necessary investments in the nation's physical and social infrastructure.

Both Rep. Huffman and Rep. Ocasio-Cortez are members of the Congressional Progressive Caucus. Participants are encouraged to ask questions via Zoom or in the Facebook video comments section during the event for a chance to have your question read aloud and answered live. To send a question ahead of time, please email huffmanQandA@mail.house.gov or call 415-258-9657 with your name, neighborhood and question.

Event Details: WHAT: Virtual Town Hall with Representatives Jared Huffman and Alexandria Ocasio-Cortez
WHEN: Friday, October 15, 2021 @ 2:30pm PT
WHERE: · RSVP here for a link to the Zoom · Live on Facebook.com/RepHuffman and twitter.com/RepHuffman
· KSRO 1350-AM will air the town hall at 5:00 p.m., streaming at KSRO.com, or on the KSRO app
· KPCA-LP, 103.3 FM, and streaming on KPCA.FM.
· Marin TV, Comcast CH 27, AT&T CH 99 and online at www.marintv.org/27
· Redwood Community Radio, KMUD live broadcast: Community members in Humboldt & Mendocino Counties can tune in live to 91.1 Garberville, 88.1 Eureka, 90.3 Laytonville/Willits or online at www.kmud.org
· Live on Mendocino County Public Broadcasting, KZYX 90.7FM Philo, KZYZ 91.5FM Willits and Ukiah, and 88.1FM Fort Bragg.
· Access Humboldt AH11 (Suddenlink Cable Channel 11) as well as on radio at KZZH-LP 96.7FM

Please be advised that this is a virtual event; members of the press and public should not attempt to meet in person with the Congressmembers. For more information on Rep. Huffman's work, visit huffman.house.gov.