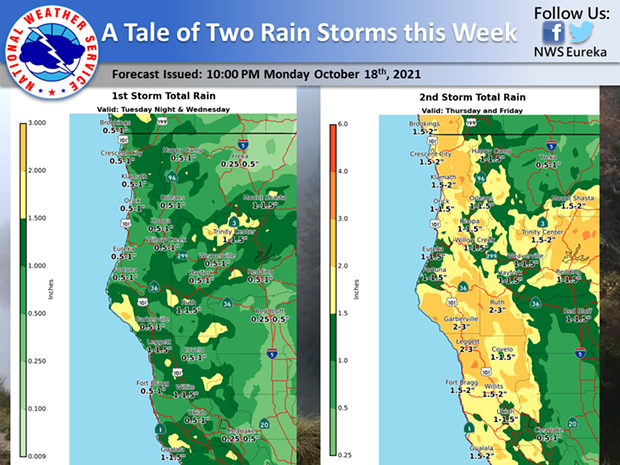 Another round of rain is headed this way, with the first in a one-two punch of storms expected to hit this evening, followed by a stronger front later in the week.
The heaviest showers are forecast to hit over night in both cases, with most areas in the region seeing a half inch to 1 inch of rain from storm No. 1 while the second will bring around 1 inch to 1.5 inches, although areas around Garberville could see double that amount, according to the Eureka office of the National Weather Service.
A wind advisory is slated to go into effect at 5 p.m. today, running until 2 a.m. Wednesday, for the Del Norte County coast and interior as well as Humboldt County. The winds from the southeast are expected to hit 20 to 30 mph, with gusts up to 50 mph expected.
Just as that storm wraps up, another is forecast to arrive. The front is expected to pass through around Thursday night, with the heaviest rain falling in the evening and early morning hours.
For details on your location, visit
www.weather.gov/eka
, and enter your zipcode, city or town in the upper left.