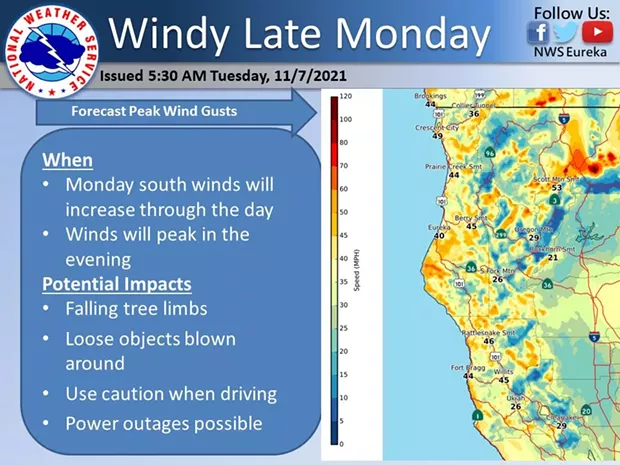 It's the calm before the storm this Monday morning, with a strong front expected to swoop in this afternoon bringing strong winds and rain and, in higher elevations of Trinity County, a cold front will deliver snow.
A wind advisory is slated to go into effect at 2 p.m. today. The strongest winds are expected between 5 p.m. and 10 p.m., according to the Eureka office of the National Weather Service, with peak gusts of 45 to 60 mph, likely around 9 p.m.
"There is a low chance, about 13 percent, for wind gusts to reach or exceed 60 mph around Humboldt Bay between 7 p.m. and 9 p.m.," a post from the NWS states. "Watch for falling limbs, downed trees. Winds this strong may cause minor damage to structures and create power outages."
Meanwhile, in the mountains above 3,000 feet, snow is forecast, the NWS states, with a winter storm warning in effect for northern Trinity County
"Snow will impact high elevation passes including Scott Mountain Summit with 8 to 12 inches and Buckhorn Summit with 4 to 6 inches," the NWS states. "Small amounts of snow could also be seen at lower elevations, such as Weaverville.

<!———EndFragment———>
The Eureka office is also asking residents in the region for their wind and snow reports, noting that "pictures are great." Reports, including the what, where and when, can be done at
https://inws.ncep.noaa.gov/report/
.