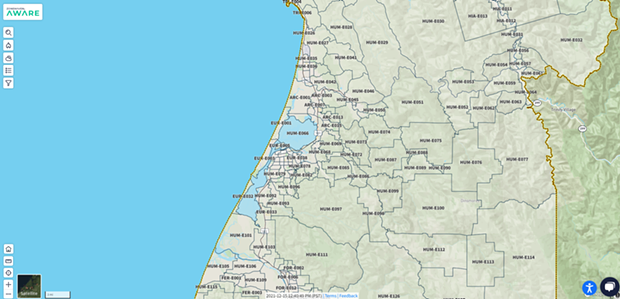 Screenshot
The Zonehaven AWARE website.
The Humboldt County Sheriff's Office has launched a new evacuation mapping tool website called Zonehaven AWARE that categorizes Humboldt County neighborhoods into specific zones to be used by first responders to determine necessary evacuations in the event of an emergency.
"We are so happy to offer this incredible preparedness tool to our community," Humboldt County Sheriff William Honsal said in a press release. "Residents are encouraged to Know Your Zone before the next emergency occurs by visiting the new interactive map on Zonehaven AWARE at www.community.zonehaven.com."
<!——StartFragment——>Zonehaven is not an emergency alert system and registration is not required to use Zonehaven AWARE, instead, the site will direct residents to sign-up for the county's emergency alert system, Humboldt ALERT. During an emergency, officials will communicate evacuation orders and zone statuses to the public through Humboldt Alert using the zones from the Zonehaven site.
To find which zone you are located in visit
www.community.zonehaven.com


"Residents are encouraged to look up and record the names of all the zones they frequent — such as home, work, school, or homes of loved ones — and keep them in an easily visible place. The map is updated in real-time, so residents should check it regularly for zone status information," a press release reads.
Read the full press release below.
<!——StartFragment——>
Residents encouraged to "Know Your Zone" as county launches new evacuation mapping tool


The Humboldt County Sheriff's Office is pleased to announce the launch of a new evacuation mapping tool meant to prepare and protect our community before, during, and after a local emergency.

The Humboldt County Sheriff's Office of Emergency Services (OES), in collaboration with local governments and public safety partners, has established over 300 emergency zones throughout Humboldt County utilizing Zonehaven, an evacuation management platform.

"We are so happy to offer this incredible preparedness tool to our community," Humboldt County Sheriff William Honsal said. "Residents are encouraged to Know Your Zone before the next emergency occurs by visiting the new interactive map on Zonehaven AWARE at community.zonehaven.com."

In order to find your zone, residents should enter their address into the interactive map at community.zonehaven.com using the search bar in the upper left. This will open a pop-up window, which includes your zone's name and information about the zone and its emergency services. Residents are encouraged to look up and record the names of all the zones they frequent—such as home, work, school, or homes of loved ones—and keep them in an easily visible place. The map is updated in real-time, so residents should check it regularly for zone status information.

"When it comes to evacuations, every minute counts," OES Manager Ryan Derby said. "Being able to provide residents with real time information regarding zone status, evacuation routes, shelter options, and more will help us to get accurate, life-saving information out to our community quickly and consistently."

Zonehaven is not an emergency alert system and registration is not required for use of Zonehaven AWARE. Using the "Subscribe to Alerts," button, located to the right of the zone name, will take residents to the County's website to sign up for Humboldt ALERT, the County's emergency alert system. Zones names will be used in county emergency alert notifications, so knowing your zone is critical to the evacuation process.

In the event of an emergency, first responders and emergency service officials will use Zonehaven to determine necessary evacuations. From there, officials communicate evacuation orders and zone statuses to the public through Humboldt Alert and the Zonehaven community site. Local cities utilizing other emergency alert systems such as Nixle or Code Red will also issue alerts to their respective zones should an emergency occur in that area.

"This really has been a collaborative process and we've gathered feedback from all of our public safety partners to ensure these pre-determined zones accurately reflect the communities we serve," Sheriff Honsal said. "Local jurisdictions will also be able to utilize Zonehaven for emergency planning and evacuation purposes. By making this platform available to all of our partners, we are ensuring that we all have a common operating picture to work from in the event of a widespread, multi-agency response."

While a Zonehaven AWARE mobile application is still being created, residents are encouraged to bookmark the Zonehaven AWARE page on your browser and/or create a website shortcut on your smartphone's home screen.

Learn more about Zonehaven and how to find your zone at: https://humboldtgov.org/3219/Evacuation-Mapping or Read the Zonehaven FAQS.

<!——EndFragment——>