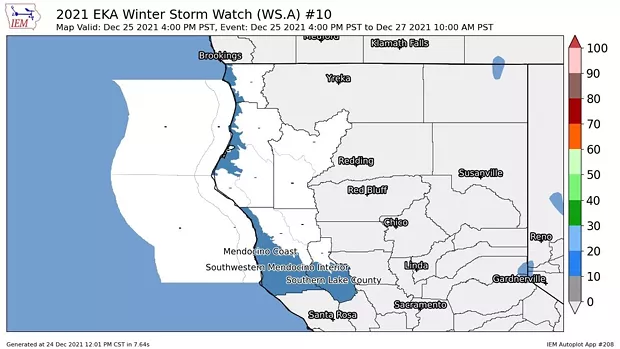 Dreaming of a white Christmas? This could be your year, even on the coast.
The Eureka office of the National Weather Service has issued a winter weather watch that is in effect from tomorrow afternoon through Monday morning as a series of cold storm systems make their way through the region, which could bring snow down to 2,000 feet Saturday afternoon and to sea level that night — lasting until Monday.
Heavy mountain snow is expected to begin falling this afternoon, meaning traveling on highway passes and higher elevation roads will be "difficult if not impossible," according to NWS.
Even portions of the coast could see 1 to 3 inches of the white stuff, according to the forecast, with about a 60 percent chance of snow at sea level between Saturday night and Monday morning.
Meanwhile, thunderstorms and small hail are expected to hit this afternoon in Humboldt and Del Norte counties, which will make for hazardous driving conditions, including along the U.S. Highway 101 corridor.
"In addition, dangerous lightning will be possible with these storms," the NWS forecast states.
<!—EndFragment—>