An office stages during this afternoon's police pursuit in Eureka.
UPDATE
The Eureka Police Department issued a press release tonight confirming that at least one officer fired a firearm during a pursuit that allegedly began after the suspect rammed police vehicles and drove "toward officers" before fleeing the scene, leading to another car crash and, ultimately, a brief multi-agency manhunt that ended with the suspect in custody and en route to a local hospital.
Reached by the
Journal
, acting EPD Chief Brian Stephens declined to answer whether the suspect had been shot, saying EPD plans "to release more information after the weekend as the investigation continues," adding that, as of 9 p.m., this was still a "very active investigation."
The incident began around 2:45 p.m., when "a multi-agency law enforcement team was working to apprehend a wanted felon near Third and T streets in Eureka," a press release states, adding that's when the suspect allegedly rammed police vehicles and at least one officer opened fire. (EPD's press release only states, "an officer involved shooting occurred at this time.") It's unclear how many shots were fired or how many officers discharged weapons during the incident.
According to the press release, "Immediately following the shooting, the suspect fled in the vehicle, causing a traffic collision at Fifth and V streets," after which the suspect fled on foot into a greenbelt near Sixth and T streets.
After officers secured the perimeter and brought in a canine unit, the suspect was located at about 3:20 p.m., "hiding in the greenbelt and taken into custody without further incident," according to the press release.
The release states the suspect was taken to the hospital for "medical evaluation and treatment," but offers not further details.
The county's multi-agency Critical Incident Response Team has been activated, the press release states, though it does not specify which agency is leading the investigation.
See EPD's full press release
here
and local photographer Mark McKenna's slideshow from the scene below, and scroll down to see the original post.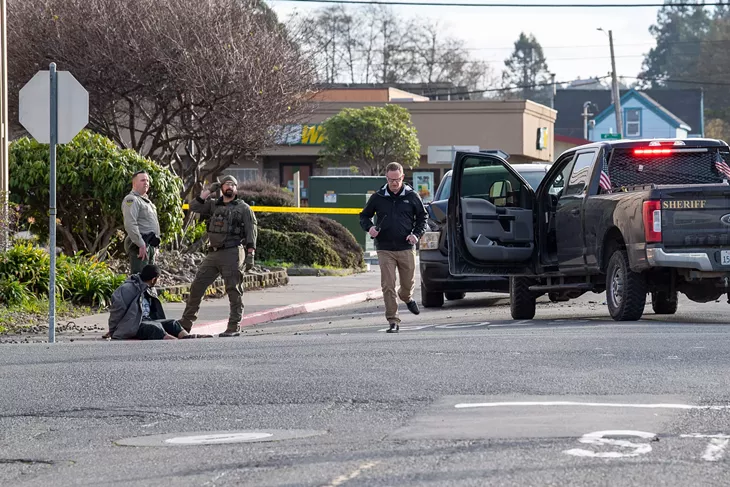 14 slides
PREVIOUSLY:
Eureka police have a "primary suspect" in custody after a hectic chase that appears to have begun on Third Street in which at least one gunshot was fired.
It's unclear if anyone was shot, but the county's Critical Incident Response Team has been called in to investigate, according to scanner traffic.
Around 2:45 p.m., an EPD officer reported shots fired in the vicinity of Third and T streets and a pursuit ensued, involving a car crash at V and Ninth streets, at which point a suspect fled on foot into the green belt near T and Fifth streets.
A search ensued and a suspect was taken into custody. Scanner traffic indicates at least one person was transported to the hospital.
We'll update this post when we have additional information. It's unclear if other suspects remain outstanding.