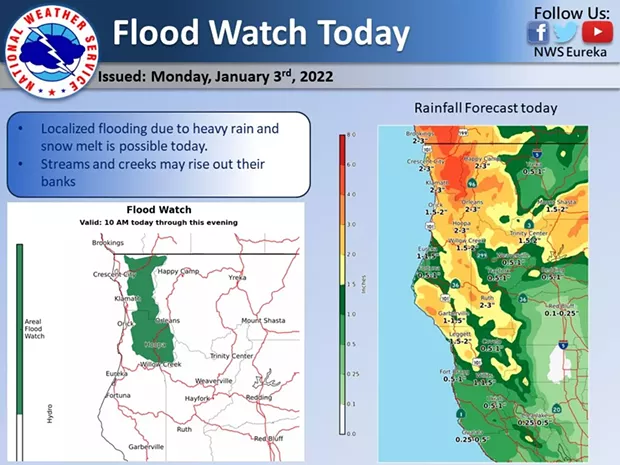 A flood watch is in effect from 10 a.m. to 8 p.m. today in parts of northern interior Humboldt County due to the possibility of excessive run off and melting snow causing a "quick rise of streams, creeks and other flood-prone areas," according to the Eureka office of the National Weather Service.
"Creeks and streams may rise out of their banks," the watch states. "Flooding may occur in poor drainage and urban areas."
Heavy rain of about half an inch an hour is possible this evening, according to the NWS, with up to 3 inches of rain in higher elevations.
"Convective bands of precipitation may produce higher amounts, and rising snow levels will contribute to snowmelt. Quick rises in streams, creeks, and other flood prone low-lying areas will occur," according to the NWS.


Over on the coast, strong winds are expected to up the ante on the day's unusually high tides, which peaked around 11:15 a.m. in the 9-foot range.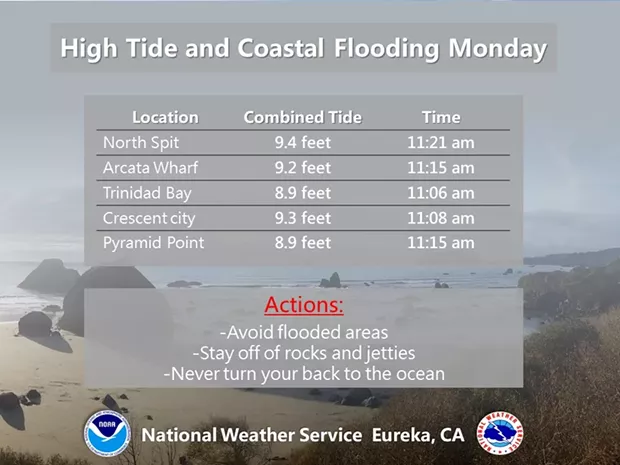 A wind advisory is in effect until 3 p.m. due to 15 to 25 mph winds out of the south, with gusts up to 45 mph.
As far as the localized flooding possible in the interior, conditions are nothing like the extraordinary ones that aligned to produce
the devastating flood of 1964
, according to National Weather Service meteorologist Tyler Jewel. This is a situation of possible localized flooding during heavy rainfall that could see creeks and streams overrun their banks and the possibility of pooling in more urban areas, he said.
"Main stems," Jewel said, are "very unlikely to reach even monitor stage."
For more localized weather information, click here.
<!——EndFragment——>