Robert Durst, the East Coast real estate scion who spent several years living in Trinidad and was convicted in September of killing his friend, supporter and confidante at her Benedict Canyon bungalow back in December of 2000, has died. He was 78.
According to the
New York Times
, Durst went into cardiac arrest at a Stockton hospital, where he'd been taken for tests. He was
serving a life sentence
for the shooting of Susan Berman, which had gone unsolved for
almost two decades
.
Durst is also suspected of killing his wife Kathleen Durst, who disappeared in 1982, but was acquitted in the 2001 killing and dismemberment of a neighbor at a Texas boarding house where he'd been posing as a mute woman.
Photo By Thadeus Greenson
For about five years starting in 1995, Durst lived in this home in Trinidad, where he seemed to enjoy relative anonymity and attempted to separate himself from his wealthy New York family.
Durst, who was living in Trinidad at the time of Berman's death and
Submitted
Karen Mitchell
is believed to have gone on a 660-mile road trip from his home here to Los Angeles to commit the killing, has also often come up as a possible suspect in the case
of missing Eureka teen Karen Mitchell.

Karen was last seen in November of 1997 walking down Broadway Street
in Eureka on her way to the Coastal Family Development Center, where she looked after children. A witness reported he may have seen the 16 year old enter a circa 1976 to 1978 light blue Ford Granada or Mercury Monarch with a driver that bore a striking resemblance to Durst.

Mention of Karen's 1997 disappearance began appearing in the national media soon after Durst's arrest in March of 2015, when the FBI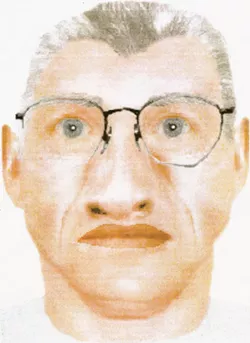 Courtesy of the Eureka Police
Composite sketch of a man who may have been driving a car Karen Mitchell got into the day she disappeared.
started looking into unsolved cases in the mishmash of places he had lived over the years.

Her case remains open.