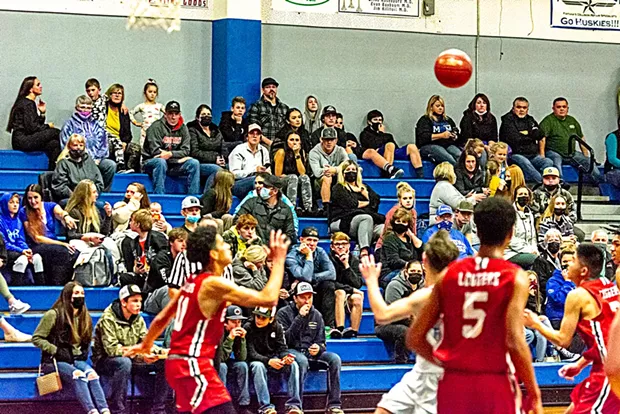 Photo by Jose Quezada
Mostly unmasked spectators take in a recent Fortuna boys basketball game.
The Humboldt-Del Norte League did not reconsider its recently imposed temporary spectator ban for high school sporting events at its meeting last night, despite an outcry from some demanding it do so.
The league announced Jan. 6 that superintendents of participating schools had voted 6-4 to impose the ban at least until Jan. 23 in an effort to slow spread of the highly contagious Omicron COVID-19 variant locally and keep schools open for in-person instruction and student athletes competing. The decision prompted immediate backlash from some, with a petition calling on the league to reconsider quickly garnering more than 2,100 signatures. (Read more about the league's decision in this week's
Journal
cover story
here
.)
HDNL Commissioner Jack Lakin told the
Journal
via email that the league's athletic directors met last night via zoom — with four of the nine who participated joining from home while isolating with COVID-19 — but did not revisit the temporary no-spectators policy. He said league superintendents are looking to schedule a meeting next week to "look at current conditions and determine the status of spectators" when the temporary ban is currently slated to expire Jan. 23.
Lakin said numerous games over the past week have had to be rescheduled or postponed due to COVID-19, while at least two local schools have also had to close because of staffing shortages due to COVID-19 infections, while the Klamath Trinity Unified School District decided to close all its campuses and cancel scheduled athletic contests for a week "due to the number of COVID cases in our communities."
Cases throughout Humboldt County have continued to surge in the days after HDNL announced its decision.
As of yesterday
, the county's seven-day average was more than 141 new cases confirmed per day with a test-positivity rate of 26.4 percent, with both numbers dwarfing the county's previous highs. Through the first 12 days of January, the county had reported 1,667 new cases — 13.2 percent of its cumulative tally through the nearly 23-month-old pandemic.
At a press conference yesterday, local health officials
said they expect
the current surge to peak sometime next month. As of today, a state database indicates 20 people are hospitalized locally with COVID-19, including five under intensive care.