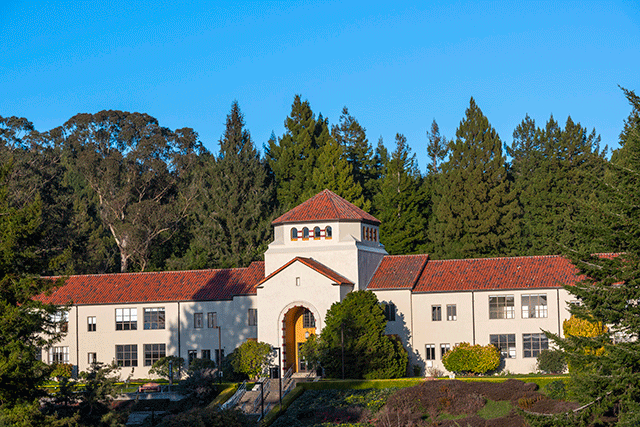 California Polytechnic University, Humboldt
A view of Founders Hall at Cal Poly Humboldt.
Excitement and pride were in full swing during yesterday's California State Polytechnic University, Humboldt (or Cal Poly Humboldt) press conference with university administrators and the California State University Chancellor Joseph Castro calling the day "historic."
"I am absolutely thrilled to be with you on what is a truly historic day for the California State University, for the great state of California and, most notably, for California State Polytechnic University, Humboldt. I've been looking forward to saying those words in an official capacity for a long time," Castro said. "What makes this day so momentous and cause for great celebration is what the name represents with the transition to Northern California's first polytechnic institution. Cal Poly Humboldt will bring increased access to high-demand academic programs to talented and diverse students from Northern California and beyond."
Castro went on to note the campus will provide students with "the experience needed to tackle critical issues facing the state, including climate resiliency and wildfire and water resources management," while also benefiting North Coast.
"It is indeed a great day for the Humboldt community, the California State University and the state of California," he said.
Now that the campus formerly known as Humboldt State University is the CSU's third designated polytechnic university and the only one in Northern California, the school is currently in the process of adding new curriculum and degree programs, and is gearing up to build the proper infrastructure for the expected increase in enrollment.
"We have an implementation process set up right now with several different working groups aimed at [the next steps of becoming a fully functioning polytechnic university], so we have been working diligently on standing up eight new bachelor's degree programs, one new master's degree program and three certificates by fall of 2023," said Cal Poly Humboldt Provost Jenn Capps, adding that the university is on target to meet that deadline. "There's also working groups focused on facilities ... so academic buildings, housing; and then other working groups focused on communication technology, inclusive student success, so it's really working through and launching those pieces to get us to the place where we have all of the academic programs and support services and facilities to support our student success."
The university is expected to launch 12 new programs by the fall of 2023, including eight new bachelor's degree programs in mechanical engineering, energy systems, engineering data science, software engineering, marine biology, applied fire science and management, cannabis studies and geospatial analysis, as well as three certificate programs in cybersecurity, information technology and sustainability, and finally one master's degree in engineering.
The school is also planning to add six more bachelor's degree programs, two certificate programs and one master's degree program by 2026, with four more bachelor's degree programs and another master's degree program by 2029. In seven years, the campus is planning to offer 28 new degree programs focusing on STEM and applied sciences.
Thanks to a one-time investment of $433 million from Gov. Gavin Newsom, and additional ongoing funds of $25 million yearly, Cal Poly Humboldt will be able to build new academic facilities, student housing, make building renovations, upgrades to lab spaces, expand broadband and make investments in a renewable energy research capacity.
The university currently has five academic infrastructure projects: an engineering and technology learning community building, existing building and lab renovations, a microgrid and sustainability building project and a Eureka research lab (offshore wind lab) marine facility.
The university also plans on building more housing for the expected increase in enrollment using state funding.
"Despite all the things our provost said, our biggest challenge still remains housing, student housing and community housing. … And we could do all of those things, but really the first out of our box is building up our campus housing and our community housing to support even a little growth, doesn't have to be a lot, because we're not the same place we were five years ago," Cal Poly Humboldt President Tom Jackson Jr. said.
"We have more individuals now living in the county using up many of those spaces students used to use when we were a little bigger a number of years ago," he continued. "So we have to be better at that, as a campus, and we intend to ... with the support of the governor's [$433 million]."
He also noted that by building new student housing, the campus will also "create more housing for our workforce, which is desperately needed by our hospital and other employers throughout the area."
Cal Poly Humboldt currently has five plans for student housing, which include the Craftsman Student Housing project, expected to be completed at the end of 2024, as well as land acquisitions and creating a robust broadband infrastructure.
The one-time investment from the state goes beyond the campus, benefiting the local economy as well, Jackson said.
"There's no secret we have big aspirations to be a thriving campus and a model global community and we're already seeing some of the benefits of that today," the president said. "We have new enterprises coming into the community — that came into this community because there was an institution, the CSU, and there is static that we're sending as a polytechnic university that is going to continue to have benefits in very significant ways. With the financial support provided by the Legislature ... that's going to go a long ways to really stabilizing, if not increasing, the economic engine for our local community and that may be one of the biggest drivers for future growth in the coming years as more and more employers choose to come and be beside a polytechnic."
The university expects that with the new polytechnic designation and the demand for STEM careers, Cal Poly Humboldt's enrollment will grow significantly, with projected enrollment increases of 50 percent in three years and 100 percent in seven years.
According to Capps, Cal Poly Humboldt is already starting to see an increase in enrollment for the upcoming fall semester.
"We've done a tremendous amount to expand our recruitment pipeline, increase our use of efficiencies of technology and analytical tools, building partnerships and collaborations focusing on student retention, matching growth plans with housing capacity and the signals are really good," Capps said
She noted that the campus' fall of 2022 confirmations are up over 37 percent and the spring of 2022 new student enrollment is the highest it's been since 2013, with a 17 percent over last year.
"So, feeling really confident about where we are and where we're moving toward," Capps said. "Feeling really good about that and being able to deliver that access to education for our local community and for prospective students in the state of California."
With a timeline of bringing on new programs in the next year, Capps said the university has temporary plans on how to slowly phase in the curriculum through partnerships with College of the Redwoods and by using strategies like aligning the university's first two years engineering curriculum across all of its engineering programs. The university will also be using a planning process with its facilities implementation group that has several sub-working groups to really look at the impact of launching different programs, how it will impact space for another program and where facility upgrades need to be for the next piece, she said.
"We're also leveraging what we've learned from the pandemic with respect to how to provide quality online instruction as well, and then also utilization of our summer session because there's a great opportunity to do more robust programming during summer," Capps said.
Overall, Cal Poly Humboldt still has a long way to go before it becomes a fully functioning polytechnic university but it's already working toward the goal.
"We haven't stopped working and won't stop working," Capps said.