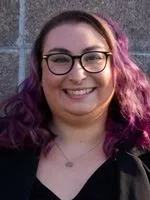 Vice Mayor Emily Goldstein
Arcata Vice Mayor Emily Goldstein announced last night that she will be stepping down from the city council seat she was elected to a little more than one year ago to "focus on the health of my family."
At times growing emotional, Goldstein said the decision was "really hard" but the "energy and time I have dedicated to you all now needs to go towards ensuring I have the best medical care possible for my family."

She noted that her family's situation has shown her that "healthcare in Humboldt County does not even come close to meeting the needs of its residents."
"I believe that I can serve out the rest of the month of February but wanted to bring this forward tonight because it seems to provide the council with more options to fill the vacancy than if I waited until later in the month to announce," Goldstein said at Wednesday's meeting, "and I just wanted to leave the council and you all in Arcata with the best situation possible."
The "silver lining" in the decision, she said, was her belief in the abilities of Mayor Stacy Atkins-Salazar and Councilmembers Sarah Schaefer and Meredith Matthew.
"These three elected officials are some of the strongest and most capable people I have ever met," Goldstein said. "Please know how tirelessly they work for you all and that they always truly have the best interests of the people of Arcata at heart."
Noticeably absent from her remarks was Councilmember Brett Watson, who was seated directly to her left.

Watson was ousted from the role of mayor at an Oct. 20 special meeting by his fellow city councilmembers, who voted unanimously that they had no confidence in his ability to serve on the council.
Watson, who had previously been arrested for driving under the influence, later issued a statement saying that he was entering "a 30-day residential rehabilitation program to focus on depression and personal issues." He returned to the dais in December.
The city announced last month that it hired an outside firm to look into a report of Watson's possible violations of the city's anti-discrimination and harassment policy. He denies any wrongdoing.
Just before Goldstein's announcement, Watson thanked members of the public for "being so kind, compassionate and supportive … during everything that has been going on."
Watson also stated that he was concerned about "a few issues" but he had informed the mayor that he would continue to work through city policies and procedures "to resolve them."
The city council has three choices to fill Goldstein's upcoming vacancy: hold a June special election or by appointment, which has generally been in the chosen course under similar circumstances, or wait until the November election to have the seat filled as a two-year position.
City Manager Karen Diemer said in an email to the Journal that councilmembers are being polled about calling a meeting to discuss their options next Tuesday, Wednesday or Thursday and a decision on the date is expected tomorrow.