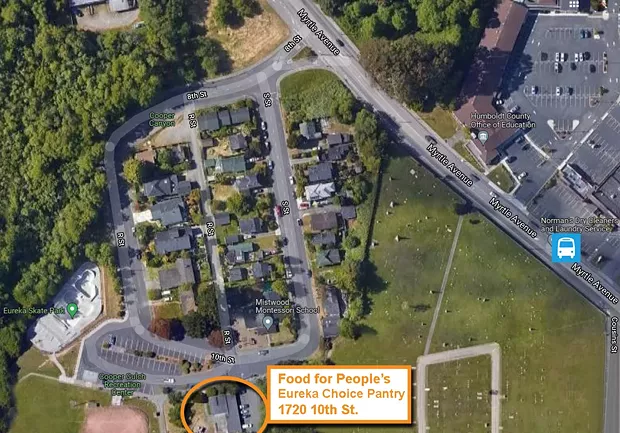 Submitted
A map of Food for People's new temporary pantry home near Cooper Gulch.
Delays in construction on Food for People's Eureka Choice Pantry are forcing the food bank to temporarily move to a new location near Cooper Gulch.
The existing location — 2112 Broadway — will close after March 24, and the new location at 1720 10th St., directly adjacent to the Eureka Skate Park and the Cooper Gulch Fields, will open March 29. Once open, the pantry will operate from 11 a.m. to 3 p.m. Tuesdays, Wednesdays and Fridays, closing from 12:30 to 1 p.m. for lunch.
Submitted
Food for People Executive Director Anne Holcomb in front of the nonprofit's new temporary Eureka pantry.
"In the new location, Food for People will implement an order-ahead model as a new benefit to pantry users," the press release states. "Please contact pantry staff at (707)407-0447 for details or to make an appointment."
The nonprofit blames repeated delays on construction of its new facility for necessitating the move, but says construction is slated to begin next month and the pantry that serves 1,000 people each month expects to have a permanent home by next year.
See Food for People's full press release copied below.
Food for People's Eureka Choice Pantry moving to Cooper Gulch

Food for People's Eureka Choice Pantry is relocating to 1720 10th St, located directly adjacent to the Cooper Gulch Fields and the Eureka skate park. The existing location at 2112 Broadway will close as of Friday March 25th and no food pantry services will be available that day. The food pantry will reopen in its new location on Tuesday March 29th. The hours of operation will be Tuesday, Wednesday, and Friday of each week from 11am to 3pm (closed 12:30-1pm for lunch). In the new location, Food for People will implement an order-ahead model as a new benefit to pantry users. Please contact pantry staff at (707)407-0447 for details or to make an appointment. For those traveling by bus, the Eureka Transit System's Purple Route stops at the Burre Center located a quarter mile from the new pantry location.


The relocation of the Eureka Food Pantry has been necessitated by the delay in construction of Food for People's main site. Food for People is in the process of rebuilding their facility following the sewer inundation that occurred in February of 2020. Due to delays in construction caused by the pandemic and supply shortages, a more stable and long term option is needed to house Food for People's Eureka food pantry that serves more than 1,000 community members each month. After long delays, construction materials have been secured and construction of the new food bank is slated to begin in the next month, which should provide the pantry a permanent location by 2023. You can help Food for People rebuild a facility that will ensure every person experiencing hunger in Humboldt County can access nutritious foods into the future by making a donation at www.rebuildfoodforpeople.org.

###