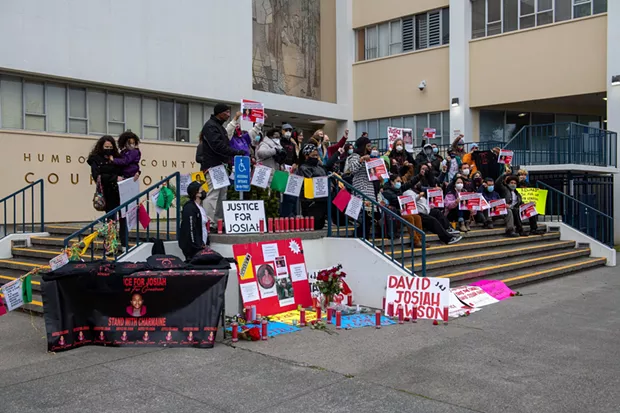 Photo by Mark McKenna
Members of the crowd at the vigil pose for a group shot with Charmaine Lawson.
Charmaine Lawson spoke Friday at a courthouse candlelight vigil, continuing her call for justice
five years after the still unsolved fatal stabbing of her son
, David Josiah Lawson, at a house party in Arcata.
On the same day, the Arcata Police Department once again put out the call for witnesses to come forward, stating that their accounts of the events in those early morning hours of April 15, 2017, "are crucial to bringing this case back to court."

"It is paramount that witnesses come forward," Chief Brian Ahearn said in a statement. "Our investigative team remains at the ready to respond to anyone at any time to document their statement as we continue the fact-finding process."
During the vigil, Charmaine Lawson said she will be meeting Monday with the California attorney general to discuss the case, which has been troubled from the start, plagued by a series of crucial initial missteps in controlling and processing the crime scene and securing potential witnesses, and subsequent trouble getting additional witnesses to come forward and cooperate.