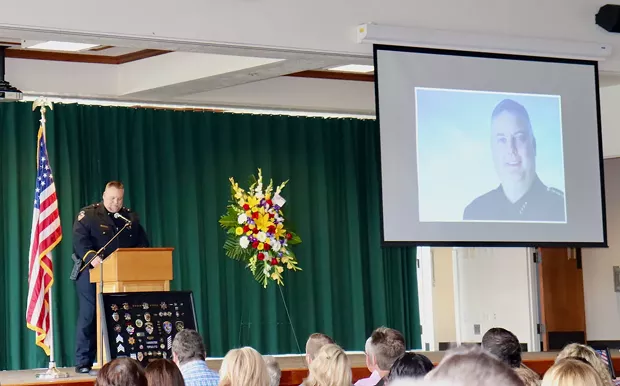 Meg Wall-Wild
Fortuna Police Lt. Matt Eberhardt honors his friend, former Fortuna Police Chief William Dobberstein, during a memorial service Saturday.
Humboldt's finest came out in force to pay respects to former Fortuna Police Chief William Dobberstein, 53, who
died
March 26, during a celebration of life held at the River Lodge Conference Center on Saturday to honor the contributions of a man who served his nation and his community.
A gleaming Fortuna fire truck provided the support for a massive American flag that fluttered at half-staff outside.
Police Chaplain Thomas Silva offered words of comfort to family, friends, community members and fellow officers. An honor guard from VFW 2207 paid respects to Dobberstein, a U.S. Air Force veteran, with a 21-gun salute over the Eel River. A military guard on bended knee presented an American flag to the Dobberstein family.
After the benediction, a mixture of tears and tributes commemorated the impact Dobberstein had on the community during his 25 years of service as a police officer. Lt. Matt Eberhardt spoke with a thick voice of how Dobberstein took him under his wing when he joined the Fortuna Police Department, while Miriam Rose teared up as she told of her experience as an Explorer with Dobberstein as her mentor, which put her on the path to become Fresno Police Officer of the Year 2021. Mayor Sue Long presented a moving tribute to her friend and colleague with candid photographs and a poem that made some laugh as they grieved.
From a sorrowful high school friend to a man whose life was changed forever by Dobberstein's simple act, speakers continually focused on the impacts Dobberstein had on others.
Former Fortuna Police Chief Kris Kitna summed it up when he said, "He didn't leave a hole, he left a whole lot of memories."