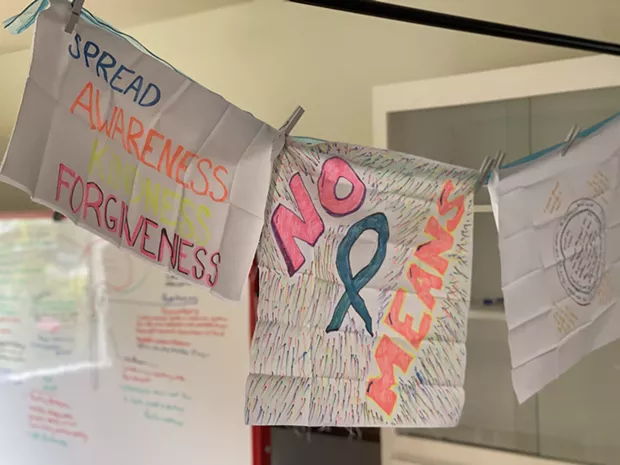 Allie Hostler
A trio of signs hangs at the Jeans for Justice even Friday in Hoopa, held in advance of the May 5 national day of awareness for Missing and Murdered Indigenous People.
With the National Day of Awareness for Missing and Murdered Indigenous Persons approaching Thursday, a Jeans for Justice event was held Friday in Hoopa, kicking off a week of events on the North Coast.
Awareness of a Missing and Murdered Indigenous Peoples epidemic has spread since 2020, when the Sovereign Bodies Institute released a groundbreaking report that found Native women and girls were far more likely to go missing or become victims of violence than the general population (find past coverage
here
and
here
). The urgency of the report's findings were underscored in December, when the Yurok Tribe
declared a state of emergency
after a spate of attempted abductions and reports of missing persons.
Tonight, the Aawok Libby Nix Community Center in Weitchpec will host a dinner and a screening of the movie Long Line of Ladies which features the Karuk Tribe's coming of age ceremony. A flower drop will follow the screening to honor MMIP victims and survivors, as well as their families.
Tomorrow at 1:30 p.m., Yurok Tribal Chair Joseph James and scholar Blythe George — a research partner for the To'Kee Skuy'Soo Ney-Wo-Chek' (I Will See You Again in a Good Way) project that is a collaboration between the Yurok Tribe and the Sovereign Bodies Institute — will address the California Assembly Select Committee on Native American Affairs during a hearing titled "California's Response to the Crisis of Missing and Murdered Indigenous People."
"The purpose of the hearing is to inform California lawmakers about what they can do to support tribal efforts to confront the MMIP crisis," James said in a press release. "On behalf of the Yurok Tribe, I would like to thank the California state government and especially Assemblymember James Ramos for shining a spotlight on this devastating issue. As tribal leaders, we know the policy and funding solutions that are needed to resolve this crisis in our communities. We need the California government to partner with us with further commitments to invest in prevention and to work with us to eliminate barriers as our people strive for safety and justice in our shared state."
George and James will also participate in a 10 a.m. press conference prior to the hearing, which can be viewed on Ramos' Facebook page, which can be found
here
.
The Yurok Tribal Court's To'Kee Skuy' Soo Ney-wo-check' team is also organizing two other family-oriented events for the local community in Klamath.
From 4:30 to 7:30 p.m. tomorrow, there will be a T-shirt and poster decorating event at the Yurok tribal headquarters in Klamath. Participants will receive a dinner, door prizes, art supplies and T-shirts. Then on Thursday, May 5, community members are invited to participate in a walk and flower drop in honor of the awareness day. Registration begins at 3 p.m. at the Yurok Justice Center and the walk will follow at 3:30 p.m., beginning at the Justice Center and proceeding to the U.S. Highway 101 bridge for the flower drop.
See the full press release from the Yurok Tribe copied below:
Yurok Chairman, Yurok scholar invited to inform State Assembly about MMIP crisis -Yurok Tribal Court hosts series of events to raise awareness about MMIP in Northern California

This week, Yurok Chairman Joseph L. James traveled to Sacramento to speak at a press conference and testify at an historic hearing on the Missing and Murdered Indigenous People's crisis in Northern California. Additionally, the Yurok Tribal Court's To'Kee Skuy' Soo Ney-wo-check' Project (I will see you again in a good way) team is putting on a series of community-centered events on and around the National Day of Awareness for Missing and Murdered Indigenous Persons on Thursday, May 5.

At 10am on Wednesday, May 4, Chairman James and tribal leaders from across the state participated in a press event organized by Assemblymember James Ramos (D-Highland) at the Capitol West Steps to highlight what Tribes are doing to combat the MMIP crisis. Chairman James also spoke at the California Assembly Select Committee on Native American Affairs Informational Hearing titled California's Response to the Crisis of Missing and Murdered Indigenous People.

"The purpose of the hearing was to inform California lawmakers about what they can do to support tribal efforts to confront the MMIP crisis," Chairman James said. "On behalf of the Yurok Tribe, I would like to thank the California state government and especially Assemblymember James Ramos for shining a spotlight on this devastating issue. As tribal leaders, we know the policy and funding solutions that are needed to resolve this crisis in our communities. We need the California government to partner with us with further commitments to invest in prevention and to work with us to eliminate barriers as our people strive for safety and justice in our shared state."

At the California Assembly Select Committee on Native American Affairs hearing, Dr. Blythe George, a Yurok citizen, Assistant Professor at UC Merced and the co-author of the Yurok Tribal Court's most recent MMIP report, provided testimony regarding the data collected during two years of intensive research on this topic and how it illuminates an inordinate threat facing indigenous people in rural Northern California.

The Yurok Tribal Court's To'Kee Skuy' Soo Ney-wo-check' team is organizing three family-oriented events for the local community in Klamath and Weitchpec.

The first event is happening on Tuesday, May 3, at 5:30pm. It includes a film screening, flower drop and dinner at the Aawok Libby Nix Community Center in Weitchpec. Called Long Line of Ladies, the movie features the Karuk Tribe's Coming of Age Ceremony. The purpose of the flower drop is to honor MMIP victims and survivors as well as their families.

On Wednesday, May 4, from 4:30pm-7:30pm, there will be a T-shirt and poster decorating event at the Yurok tribal headquarters in Klamath. Participants will receive a dinner, door prizes, art supplies and T-shirts.

On Thursday, May 5, all community members are invited to participated in a walk and flower drop in recognition of MMIP Awareness Day. Registration begins at 3pm at the Yurok Justice Center and the walk starts at 3:30pm with a reception to immediately follow. The walk will begin at the Justice Center and proceeds to the 101 bridge for the flower drop.

MMIP in Yurok Country and Across the US

In December of last year, the Yurok Tribal Council issued an emergency declaration in response to multiple missing persons cases and attempted abductions on the reservation and in the Arcata/Eureka area.

"The Yurok Tribe is currently developing a comprehensive response to MMIP cases as well as taking direct action to prevent future victims," said Joseph L. James, the Chairman of the Yurok Tribe. "Most commonly MMIP cases involve a large geographic area with many jurisdictional boundaries. We are asking local, state and federal legislators to work with us on establishing a solution to stop the crisis."

Accompanying the declaration is a resolution that identifies the root causes of the MMIW crisis. The resolution states: "The intergenerational impacts of 170 years of violence, trafficking and murder through missions, massacres, forced relocation, state sanctioned indentured servitude, boarding schools, widespread removal of children from their families through the child welfare system, disproportionate incarceration, police violence, and high rates of gender violence are still playing out to this day, and directly contribute to the crisis."

The MMIP epidemic negatively impacts numerous Tribes across the US. In 2020, 5,295 indigenous people were reported missing to the National Crime Information Center. At the end of the same year, 1,496 were still missing. In California, there were 18 documented cases involving missing and murdered indigenous women and girls, according to a report produced by the Yurok Tribal Court. The actual number is likely much higher because MMIP cases are poorly recorded at the state and federal levels. A third of all cases in California occurred in Mendocino, Humboldt and Del Norte Counties, despite the sparse populations in these areas. Murders of Native women in the state are seven times less likely to be solved.

The Yurok Tribal Court recently started an MMIP Program to combat the crisis. The Court also formed the Office of the Tribal Prosecutor to aid in the investigation and prosecution of MMIP and domestic violence cases in all jurisdictions. The program is also developing the first MMIP database in the state.

The 10am press conference on Wednesday, May 4 can be viewed on Assemblymember Ramos's Facebook page, which can be found here: https://www.facebook.com/AsmJamesRamos