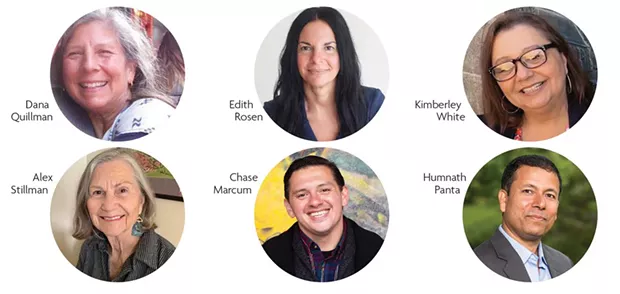 Submitted
Six candidates are seeking a single seat on the Arcata City Council in a special June election. Left to right, top row: Dana Quillman, Edith Rosen, Kimberley White. Bottom row: Alex Stillman, Chase Marcum, Humnath Panta.
Heads up, Arcata voters.
There is an error in the Voter Information Guide instructions for the single Arcata City Council seat up for grabs on the June ballot. Instead of saying, "Vote for One," the guide mistakenly has, "Vote for no more than THREE candidates."
"The instruction is correct on the Vote by Mail ballots that will be mailed to all registered voters in the city of Arcata on Monday, May 9th," the county Office of Elections stated in a release. "We sincerely apologize for the error and any confusion this may have caused voters."
To be clear, this is a winner-take-all election that will see the top vote-getter of the six hopefuls — Chase Marcum, Humnath Panta, Dana Quillman, Edith Rosen, Alexandra Stillman and Kimberley White — serve out the remainder of fomer Councilmember Emily Goldstein's term, which runs through November of 2024.
Goldstein stepped down earlier this year for family reasons, marking the second mid-term vacancy on the five-person council in less than a year. The remaining four councilmembers voted in February to have a special election in June to fill her seat rather than appointing someone to serve until the November election or simply waiting until then to return to a full complement.
Find out more about the candidates and their views in this week's
Journal
article, "The Race for City Hall," by
clicking here
.
Read the county Office of Elections' release below:
The Humboldt County Office of Elections has discovered an error on the ballot instruction in the Voter Information Guide for the Arcata City Councilmember contest on the Statewide Primary Election ballot. The instruction states "Vote for no more than THREE" candidates. The instruction should read "Vote for One" candidate. The instruction is correct on the Vote by Mail ballots that will be mailed to all registered voters in the City of Arcata on Monday, May 9th. We sincerely apologize for the error and any confusion this may have caused voters. The Humboldt County Office of Elections can be reached at (707) 445-7481 or by email at humboldt_elections@co.humboldt.ca.us