The rain held off Saturday afternoon as a grateful crowd gathered by Dave Kim's mural "Fowl" on E Street between Fourth and Fifth streets for a ribbon cutting ceremony for
Charlie Moon Way
. The street sign on the alley bisecting the block where Eureka's Chinatown stood pays homage to Moon, one of the Chinese residents who resisted and remained in Humboldt County after a white mob
expelled most Chinese in 1885
under threat of hanging. Descendants of Moon, who married and had eight children with Minnie Tom, a Native woman of the Chilula Redwood Creek Tribe, were on hand for the event, along with the family of
Ben Chin
, the first Chinese American to set up a business in Eureka after the expulsion in 1954.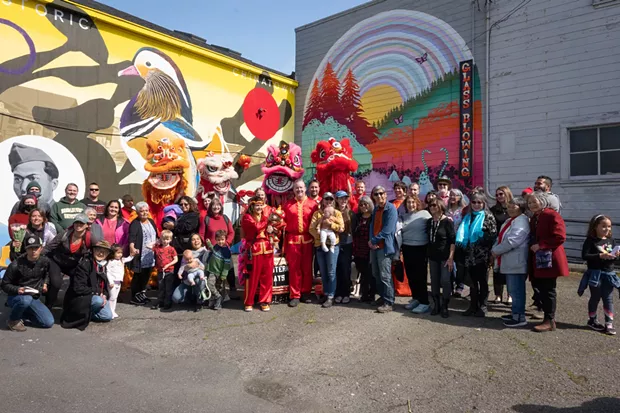 Photo by Dave Woody
Members of the Eureka Chinatown Project and other supporting community members gather with the Lion Dancers at the dedication and ribbon cutting ceremony for Charlie Moon Way in Eureka.
The naming of Charlie Moon Way (erroneously "Charlie Moon Alley" on the sign, which is set to be corrected) is one of the projects the all volunteer Eureka Chinatown Project has undertaken in the last year. A plaque and wayfinding signs marking Eureka's historic Chinatown are on the way as well. Organizers and representatives from the Eureka Chinatown Project, Humboldt Asians and Pacific Islanders, the Humboldt Area Foundation, the Clarke Historical Museum, the city of Eureka and Papa & Barkley (which sponsored the mural) spoke about the research, support, funding and labor that went into commemorating the site.
Once the big scissors had done their work, colorful Chinese traditional lion dancers took center stage, slinking and bounding around the alley to the beat of a large, wooden drum. The celebration picked up again in the closed off street in front of the Clarke Historical Museum during Arts Alive, where red lanterns hung above taiko drummers, Lao dancers and the crowds who gathered to watch them ring in the Year of the Tiger. See the slideshow by photographer Dave Woody for highlights.