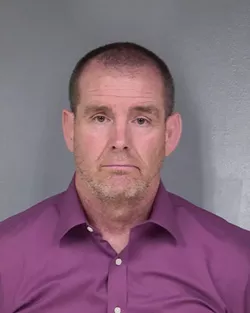 Humboldt County Sheriff's Office
Gary Landergen's jail booking photo.
The Humboldt County District Attorney's Office has filed an eight-count criminal complaint against Fortuna Union High School teacher Gary Landergen, charging him with four felonies and four misdemeanors based on allegations that he sexually assaulted three 15-year-old girls over a four-day span this year.
Landergen, who teaches math and coaches athletics at Fortuna High School, was arrested April 6 on suspicion of sexually assaulting two students and Fortuna Police Chief Casey Day said detectives had also located witnesses who independently "observed some of the alleged misconduct." Days after Landergen's arrest, Day told the
Journal
that a third student had come forward to police to recount "multiple conversations" with Landergen that the student had found uncomfortable and inappropriate.
Humboldt County Deputy District Attorney Whitney Timm told the
Journal
by email that while the Fortuna Police Department identified two victims in the case in the investigative report it sent prosecutors, upon reviewing it, she determined "that an additional crime had cursed against a third victim."
The criminal complaint prosecutors filed last week includes four felony counts of committing a "lewd and lascivious act" upon a child with "the intent of arousing, appealing to, and gratifying the lust, passions and sexual desires of the defendant," violations of California Penal Code section 288(c)(1). The counts are related to four specific acts of alleged sexual assault against three girls between March 30 and April 2, including an instance in which Landergen is accused of grabbing one of the girls' buttocks and telling her, "I love you."
The complain also includes two charges of misdemeanor sexual battery allegedly committed on March 30 and March 31 against the victim's will and "for the specific purpose of sexual arousal" and two counts of unlawfully annoying or molesting a child under the age of 18 allegedly committed between Jan. 1 and April 2.
Each of the felony counts facing Landergen carries a maximum sentence of three years in state prison and would require him to register as a sex offender.
The Fortuna Union High School District placed Landergen on administrative leave just prior to his arrest. He remains free from custody after posting $35,000 bail, and is scheduled to be arraigned in the case May 25.
Landergen returned to Fortuna High School, where he'd previously taught in the 1990s before leaving for Argonaut High School in Amador County, this year. In addition to teaching math, he coached the school's track and field team and was co-coach of the wrestling team in the fall. Day said FPD detectives have been in contact with Argonaut High School officials to make them aware of the allegations facing Landergen in Fortuna and inquire if there were reports of any similar alleged conduct there.
Day told
The Journal
previously that Landergen agreed to be interviewed by detectives during the investigation but the police chief declined to release the details of Landergen's statements "due to the ongoing investigation."