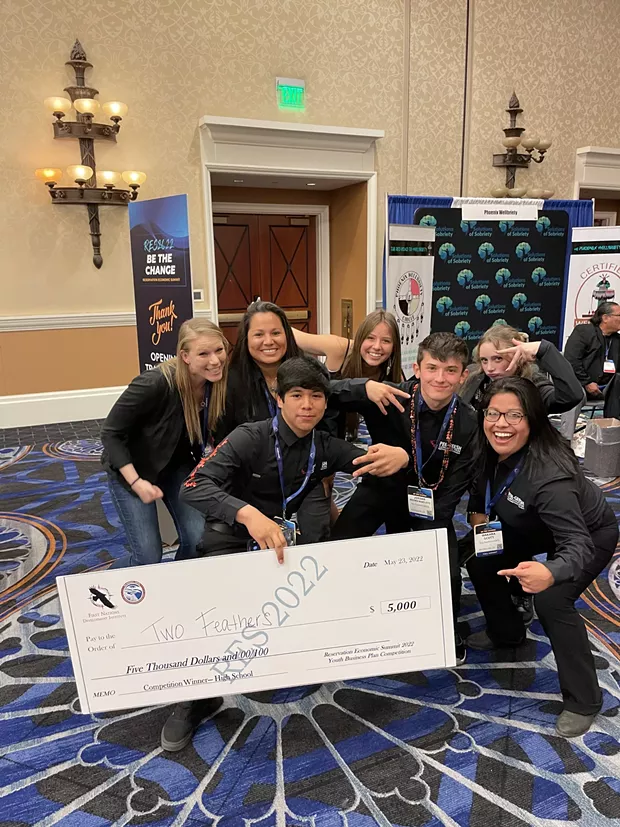 Submitted
Left to Right: Lisa Ames (mentor), Pam Ames (Yurok, mentor), Ryan Ames (Yurok, Hoopa High), Claire Paterson (Karuk, El Dorado High), Jordan Brown (Karuk, McKinleyville High), Emma Sundberg (Wiyot, McKinleyville High), Wakara Scott (Yurok, Two Feathers)
Local high school students won big at a youth business competition at the Reservation Economic Summit (RES) produced by the National Center for American Indian Enterprise Development (NCAIED) last month in Las Vegas.
As part of a program through Two Feathers Native American Family Services, Emma Sundberg, a Wiyot junior from McKinleyville High School, Jordan Brown, a Karuk junior from McKinleyville High, Ryan Ames, a Yurok senior from Hoopa High and Claire Patterson, a Karuk sophomore from El Dorado High in Placerville, submitted a business proposal to the RES youth business competition. Their proposal was among the top 5 in the country selected to be presented to the RES's Native Youth Business Plan Competition during the summit.
Their proposal sought to create "Home Away From Home," a safe and welcoming cultural community center that will promote healthy physical and emotional lifestyles for Native American children and teens locally.
The team presented their proposal and won $5,000 for Two Feather's Native American Services.
The group of teens is part of the Transition Age Youth (TAY) Action Team at Two Feathers in collaboration with the California Youth Empowerment Network (CAYEN) which looks to empower transition-age youth to be "leaders in community and behavioral health system transformations and to create positive change through the promotion of culturally appropriate supports, services and approaches that improve and maintain the behavioral health of California's TAY."
"The TAY team developed their business proposal idea all on their own," says Two Feather project coordinator Keoki Burbank. "Two Feathers is proud of these students for their hard work to put together a comprehensive business plan and having a passion to improve our community for everyone."
Yurok tribal member and CEO of Per-geesh Construction Pamela Ames and Vice President and Group Account Director at Science and Purpose Lisa Ames volunteered to mentor the teens through the entire process of developing their business proposal before the competition. Burbank says Ames would like to continue mentoring local Native youth for this business competition in the years to come. Two Feathers is currently considering how to expand the program to bring more Native business leaders as mentors.
"It was a really cool experience," Burbank says. "The kids did really well. I was really excited and proud to see them presenting in front of people in high levels of business — to see CEOs of Native businesses come talk to them after their presentation, trying to find ways to support them was really cool. They've come a long way."
See the teen's full Reservation Economic Summit presentation
here
.