Hundreds protested at the Humboldt County Courthouse and the Arcata Plaza in the hours and days following the U.S. Supreme Court's decision to overturn Roe v. Wade.
Until Friday, the 1973 landmark ruling that instilled a constitutional right to abortion, a decision now left to individual states, had been widely considered settled legal precedent.
While safe and legal access to the procedure remains
protected in California
, the decision threatens "the right to safe and accessible abortion for millions of people nationwide" and will result "in over half our country's states moving to wipe out abortion access," according to Planned Parenthood Northern California.
Carol Scher, who was at Friday's protest with Clergy for Choice, said she felt overturning Roe v. Wade was "outrageous."
"I can't believe they will give an 18-year-old an A.R. 15 and they will take away women's right over their own bodies," she said. "It's not about life, it's about power over women."
Cynthia Packar, a retired registered nurse who's lived in the area since the 1970s, said she, like a lot of women in attendance, remember "what it was like before abortion was available - the women dying, the women bleeding."

"Stopping legalized abortion doesn't stop abortion, it just stops safe abortion," she said. "And it was a sad day for women when this decision came down."
Two days later, the Arcata gathering started in the center of the plaza around 11 a.m. Sunday, with a few speakers, including Councilmember Meredith Matthews, one of the organizers, speaking about the impact the decision had on them, as well as calling for people to make sure they know where candidates stand on this issue and other fundamental rights.

Matthews took a moment to encourage young people, especially, to get involved in their communities, to vote and to run for office, pledging her help to anyone who was interested.

"You have a voice," she said. "Please use it."

The crowd of about 150 then moved to the eastern corners of the square to hold up signs with messages including. "I'm Not Ovary-Acting," "No Forced Birth" and "Women's Liberation Now, "receiving a mostly positive response from passing drivers, many of whom honked and fist pumped their approval, with a view blowing kisses.

There were a few tense moments when a man stopped his large truck in one of the traffic lanes and got into a face-to-face shooting match with at least one of the demonstrators after leaving the vehicle. He then climbed to stand on the top of the truck's cab until police intervened.

Eureka resident Michelle Huckaby said she was there Sunday to stand up and have her voice heard, especially in solidarity with women in other parts of the country who have now been stripped of their reproductive rights, which are still protected in California.

"Government should not be regulating our bodies," she said. "It's our choice. We have more regulations on our bodies than guns. It's ridiculous. We are mad. … We are not going back."
Local journalist Ryan Hutson was in downtown Eureka on Friday and shares the following slideshow of demonstrators and their signs.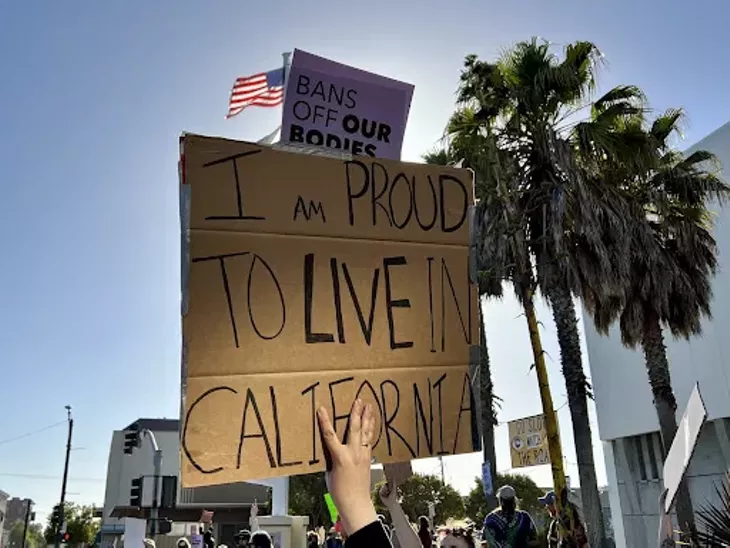 7 slides