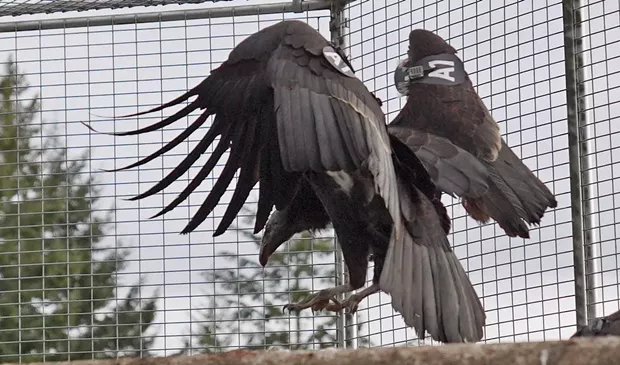 Matt Mais/Yurok Tribe
A1 took flight early this morning.
A fourth California condor is now flying free in the skies over Humboldt County.
A1, a young male, left the enclosure just before dawn this morning during the third release attempt, according to the Northern California Condor Restoration Program, a Yurok-led effort to return the bird they know as prey-go-neesh to the northern reaches of the endangered species' former territory.
A1 now joins three other condors known as A0, A2 and A3 in forming the first flock in the region in more than 100 years.
Like his fellow cohort members, A1 was given a Yurok nickname. His is "Hlow Hoo-let," which means "At last I (or we) fly!" according to Yurok Wildlife Department Director Tiana Williams Claussen.
"In line with the heavier names this first cohort carries, I interpret that as reference to the joyous day that all four of our first cohort fly free together," she said in a statement. "On a lighter note, it's definitely also a reference to poor A1's extended wait to be let out, due to his faulty transmitter! We welcome Hlow Hoo-let to the skies of Yurok and surrounding lands, and look forward to his journey with us."
Read more about the condor restoration program in the
Journal
's June 23 cover story
here
. (Just a note, when the story went to print A0 — the cohort's sole female — had been on a long sojourn but she has since safely returned to management and release site.)
A live feed of the management and release facility can be viewed on the Yurok Condor Cam, which can be found at: https://www.yuroktribe.org/yurok-condor-live-feed. More information about the effort and how to support condor restoration work can also be found here.

While the mentor bird known as No. 746 is now alone in the enclosure after helping to impart important social skills to this first flock, the adult male will eventually return to a condor breeding facility to contribute his important genetics to a new generation.

But, another cohort of young condors is expected to arrive on the North Coast in late summer or early fall, a process that will continue each year for at least the next two decades, with the ultimate goal of building a self-sustaining condor population in the region that will eventually spread to the Pacific Northwest.