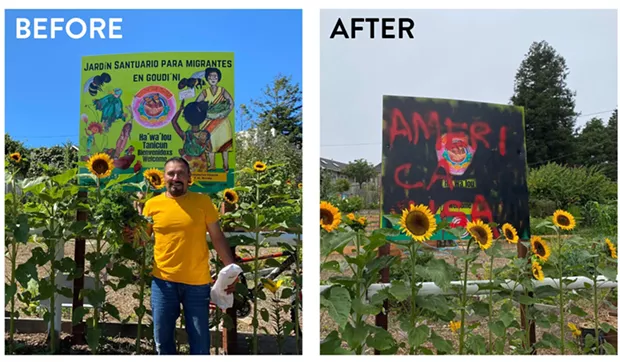 Cooperation Humboldt
Before and after pictures of Centro del Pueblo's Jardin Santuario's welcome sign after it was vandalized July 20.
Centro del Pueblo's
Jardin Santuario,
a community garden in Arcata that is held as a safe space for immigrants and the BIPOC community to garden and learn, was vandalized last night. Specifically, the welcome sign was spray painted over in black ink with the words "AMERICA USA" scrawled in red.
"The defacement of the Jardin's welcome sign is not only a crime, it also sends a threatening message to valued members of our community," Cooperation Humboldt wrote in a press release. "Centro del Pueblo, Cooperation Humboldt and the Eureka NAACP stand united in staunch defense of our Indigenous immigrant neighbors and demand that the perpetrator of this crime be brought to light to face the consequences of their actions."
<!——StartFragment——>Centro del Pueblo has been
working on the community garden
, known as the
Jardin Santuario
or Sanctuary Garden, for the past year and a half as a way to connect and empower Humboldt's Latinx residents to learn and share their gardening knowledge.
Centro del Pueblo will be holding a vigil tonight at the garden (11th and F streets) at 6 p.m. to stand in solidarity with immigrants and oppose hate in all its forms.
"We are in hope of your support, join us to end the racist violence that aims to install the culture of fear and intimidation in a sanctuary peaceful space," a Latinx community member said in the release.
<!——StartFragment——>The incident comes just weeks after several reports of
anti-semitic
flyers being distributed in Arcata.
The Arcata Police Department is currently investigating the vandalism incident and asks anyone with information to call APD at 822-2424.<!——EndFragment——>
People are also invited to join Centro del Pueblo in volunteering at the garden on <!——StartFragment——>Wednesdays from 3 to 6 p.m. and Saturdays from 10 a.m. to noon. "All are welcome."
<!——EndFragment——>Read Cooperation Humboldt's release below.
See related PDF
<!——EndFragment——>