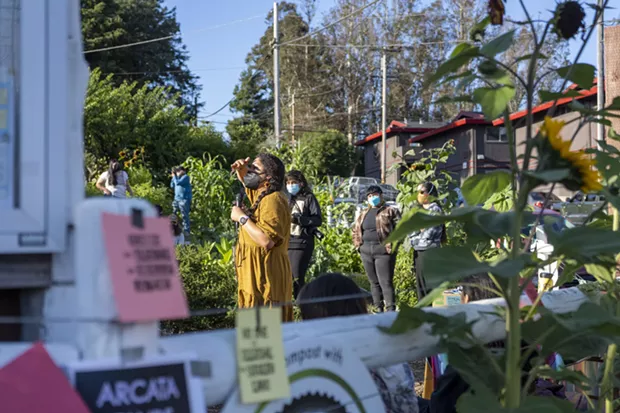 Morgan Hancock
Garden volunteer Karen Villa spoke at the vigil held in the Sanctuary Garden on Thursday, July 21.
Community members gathered at Centro del Pueblo's
Jardin Santuario
last night to stand against hate and offer support in the form of notes, candles and speeches for the community's immigrant population after the garden's welcome sign was
vandalized
.
The sign was spray painted over in black ink with the words "AMERICA USA" scrawled in red.
<!——————StartFragment——————>Centro del Pueblo has been
working on the community garden
, known as the
Jardin Santuario
or Sanctuary Garden, for the past year and a half as a way to connect and empower Humboldt's Latinx residents and immigrant community to learn and share their gardening knowledge.<!——————EndFragment——————>
<!———————EndFragment———————>During her speech last night, Karen Villa, a community organizer with Centro del Pueblo, said the name of the garden and the design of the welcome sign was intentional to make immigrant community members feel safe in the garden.
"We made sure there was diversity, made sure that we were being represented, made sure that the people in that [design] looked like (what) it would be like to be in the sanctuary garden. ... We wanted to make sure that when we are in this space, we feel safe and when I say safe, it's not just, 'I feel OK and don't feel threatened,' it's feeling safe to put the music we want to put on," Villa said, later adding that after getting the news and seeing what happened to the sign was "hard."
Arcata Police Sgt. Brian Hoffman told the
Journal
the vandalism meets the threshold of a hate crime due to the fact that the garden is run by Centro del Pueblo, a community organization that connects with Humboldt County's immigrant indigenous population.
Centro del Pueblo is inviting volunteers to visit the garden during their open hours, <!——————StartFragment——————>Wednesdays from 3 to 6 p.m. and Saturdays from 10 a.m. to noon.
See photographer Morgan Hancock's photos of the vigil below.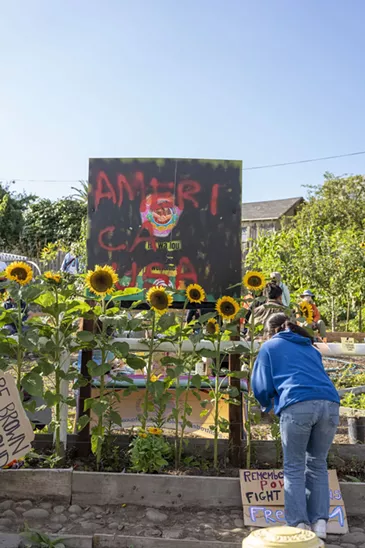 8 slides
See