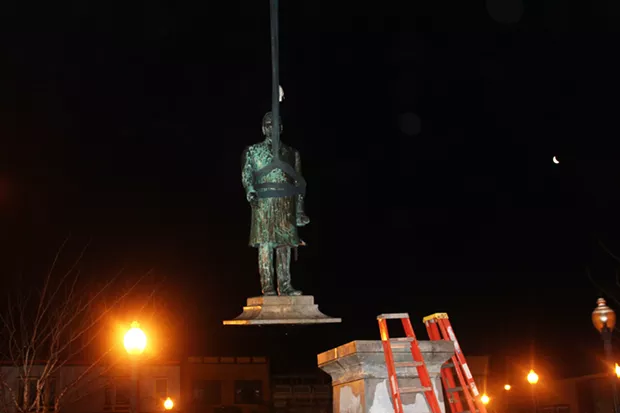 City of Arcata
The statue of President William McKinley's removal from the Arcata Plaza in March of 2019.
After being kept at an undisclosed location since being removed from the Arcata Plaza in the early morning hours of March 8, 2019, it appears the statue of President William McKinley is one step closer to regaining his place in the sun.

The Canton Repository reported July 22 that the Timken Foundation of Canton — which officially took control of the bronze work by noted artist Haig Patigian — has decided the Stark County Courthouse, where the 25th president once practiced law, should be the sculpture's new home and asked Stark County commissioners to "accept the statue as a donation for the corner of Tuscarawas Street and Market Avenue."
"It's an exciting project for the city and the county," Commissioner Janet Weir Creighton told the newspaper. "It's a way to honor William McKinley and have a statue of him downtown."
The county commission, equivalent to the Board of Supervisors, still needs to cast an official vote on the matter.
More than three years have elapsed since the nearly 9-foot memorial to the president felled by an assassin's bullet in 1901 was placed on a bed of tires in a flatbed truck to make the 2,600-mile trip to McKinley's one-time home of Canton, Ohio, where he is buried and his presidential library is located.
Commissioned by Arcata rancher George Zehnder as a tribute to the slain McKinley, whom he had admired, the statue survived the Great San Francisco earthquake in 1906 and held court over the plaza for more than 100 years before being removed.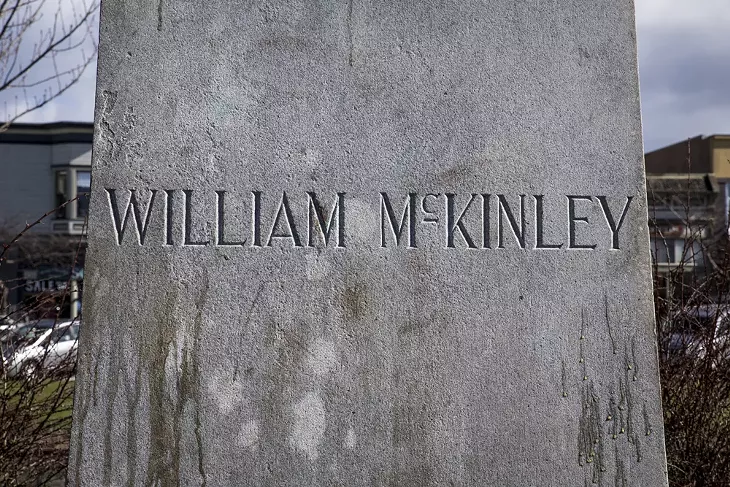 24 slides
The Arcata City Council took the official vote in February of 2018 — the culmination of more than a decade of efforts by removal advocates who viewed McKinley's likeness sitting court in the town's center as a vestige of American imperialism and genocide — but another year would pass before a decision was made to send the statue to Canton and the dismantling process commenced.
(Arcata voters overwhelmingly rejected a November of 2018 ballot measure that would have prohibited the city from modifying, destructing or relocating the statue.)
Until now, there has been scant word on McKinley's whereabouts since its arrival in the Buckeye State. As the Journal reported back in April of 2021, the statue has undergone a massive makeover and sports a completely different look, with a coffee-brown wax layer applied to protect the bronze work underneath.
At the time, however, the Timken Foundation was tight-lipped about providing more information on future plans for the statue.
According to
The Repository
report, Canton Mayor Thomas Bernabei, who penned the city's offer to Arcata back in 2019, said he is hopeful about the "proposed donation of this extraordinary statue and what will be a beautiful addition to downtown Canton."