<!———StartFragment———>
The Humboldt Crabs were on a tear this week, using a combination of stellar pitching and unrelenting offense to sweep both the midweek and weekend series. Perhaps the best indicator of this is the run differential from the week. The Crabs defense and pitching staff allowed only three runs on the week and connected for 78 runs of their own. Of the five games played, the Crabs completely shut out their opponents three times with one against TKB Baseball and two against the San Francisco Seals. In addition, two of the games this week were mercy-ruled with the Crabs up by more than two runs after six and a half innings were complete.


The week of blistering offense began on a similarly warm Tuesday evening as Marcelo Saldana took to the mound, retiring the first three batters that he faced and then waited in the dugout for almost 23 minutes as his teammates batted around the order and scored five runs in the bottom of the first inning highlighted by a three-run home run courtesy of Tyler Davis. If the five-run first inning wasn't enough of an offensive outpouring, the Crabs doubled down in the second inning, knocking in 10 more runs to grow their insurmountable lead. The hometown crustaceans scored in every inning they picked up the bats as the game was called early in the bottom of the seventh inning with a final score of 26-2.
Thomas Lal
Crabs pitcher Marcelo Saldana throws a pitch against TKB Baseball on July 26 at Arcata Ballpark.
Saldana was highly effective on the mound despite having to wait for extended periods of the game between appearances on the bump. Through five innings of work he allowed only two hits and struck out nine batters, just one short of his own goal on the evening. Hayden Bode came in to close out the final two innings and struck out four TKB batters of his own. Javier Felix and Davis led the way offensively for the Crabs that night, each with four RBI's as the best bats in the lineup this season have continued to be hot as the season draws close to an end.
Tuesday was also the last chance that fans had to see Jordan Petrushka suit up in a Crabs uniform and take the field at Arcata Ballpark. The beloved heart and soul player for the Crabs has been working through a hip flexor injury for a large portion of the season but was determined to take the field again and play in front of the fans with his teammates.
"I had had a really good season and when I started feeling hurt and my legs started giving up a little bit, dealing with some groin and hip flexor area tightness and pain it was really tough," Petrushka said after his last game with the team on Sunday. "And then I wanted to come back. I worked really hard and I came back for a couple games. Then that last game in the midweek I was obviously playing well and doing well and once it started coming up it was almost a shock to me. And I had that thought that this could be my last game as a Crab. I mean, they had to drag me out. I wanted to play the entire time. I was in the clubhouse almost yelling like, 'Let me finish it off, let me finish it off.' And to be able to finish on a good note with these guys, I love every one of them and it's been unbelievable."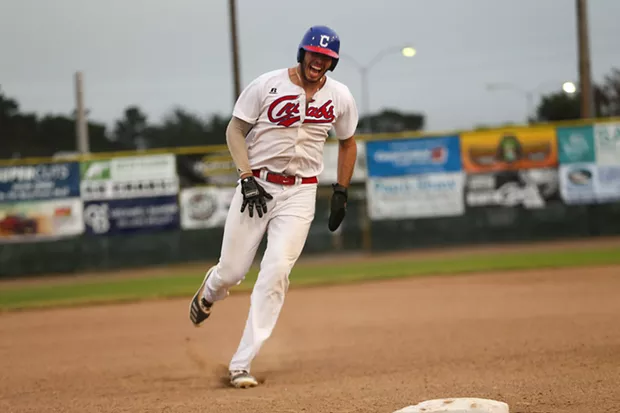 Thomas Lal
Crabs designated hitter Jordan Petrushka grimaces as he runs toward third base while playing through a lower body injury on July 26 against TKB Baseball.
Through the injury and the time it forced Petrushka to be on the sidelines, he believes he's developed an even greater appreciation for the game of baseball and where he is as person. Those have been some of the biggest takeaways of the summer for him.
"I think sometimes, and this is with a lot of baseball players," Petrushka said. "We get so in our own heads and so in our own minds about how we're playing, and that ends up affecting our on-field performance. And to be able to be put in an environment where you can relax and be happy, and if you go 0-4 or 4-4, carry that same mindset, that's how you become a better baseball player. And for me to be able to truly be myself and be with the people that I like and I love around here, it's been great and I wouldn't trade that for anything."
Thomas Lal
Crabs teammates Jordan Petrushka (Left) and Javier Felix (Right) pose for a photo in the dugout together on July 26.
Crabs Manager Robin Guiver had nothing but good things to say about Petrushka and his impact on the team this summer as well when speaking about him after Sunday's game when Petrushka was due to leave.
"He's been a heart and soul guy for us all summer long," Guiver said. "Hit really well. You know, he's a presence in the dugout and at the plate. I'm going to miss him big time. Jordan has been a great guy to have."
Wednesday was a much closer game with TKB Baseball holding the Crabs to only eight runs but the visitors couldn't fire up the bats against the Crabs bullpen as Ethan Brodsky, Matt McConnell and Andrew LaCour worked together to throw a combined shutout, allowing only two hits between the three of them. Again the Crabs struck early, putting up one run in the first inning via Colby Lunsford's leadoff homer before rattling off three more in the second. From there the Crabs were kept off the scoresheet until the seventh inning, where they doubled up their score to make the final score 8-0.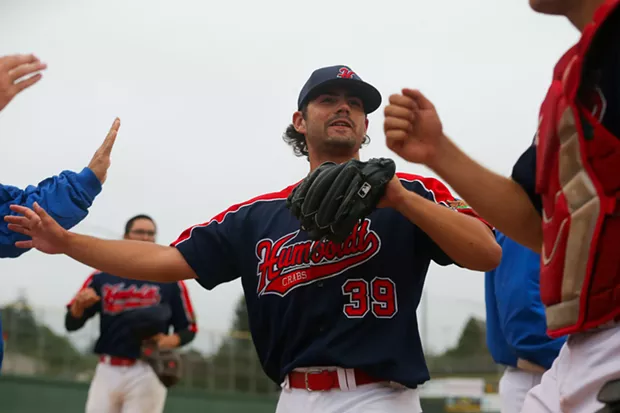 Thomas Lal
Crabs pitcher Kelan Scanlan walks back to the dugout after completing an inning of work against Seals Baseball on July 29.
Friday and Saturday were also shutouts for the Crabs in their first two games against Seals Baseball as Kelan Scanlan got the start in the first game and Nick Perryman took the mound to start on Saturday. Through six innings, Scanlan was just as dominant as the Crabs offense, looking comfortable and dealing on the mound on his way to striking out eight batters with only one hit allowed.

While Scanlan dealt from the bump, The offense gave him early run support as a solo home run by Nick Leehey gave the Crabs their first run in the bottom of the first. Leehey and Kevin Fitzer who was 3-4 on the night with three RBI's, have been key pieces for the Crabs particularly following the departure of Cary Arbolida earlier in the season.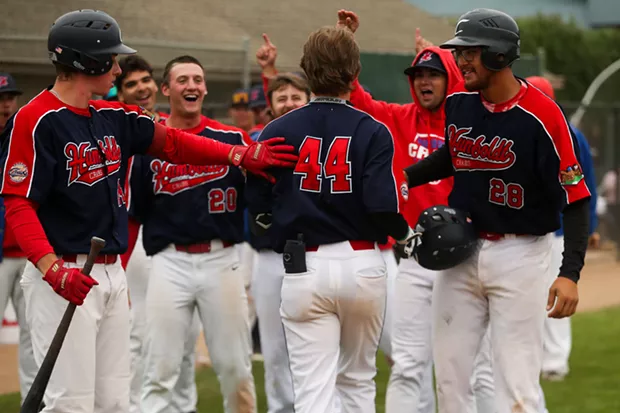 Thomas Lal
Crabs lef fielder Nick Leehey walks back to the dugout to celebrate with teammates after hitting a home run against Seals Baseball in the first inning on July 29.
"He [Leehey] has been really swinging it," Guiver said. "He had a really good season at Davis. Hurt his hand before he got to us so had to miss some of the time, kind of got off to a relatively slow start but what we've been getting out of him out of the last two or three weeks is kind of what we expected. Fitzer stepped up big time and I'm not surprised. He's a freaking really good hitter. He's going to have a great year at Northridge this year. I am surprised at his ability to play outfield like he does. Northridge called me and said, 'Hey can you get him some reps in the outfield? He needs to work there,' and that worked out good with Cary leaving and he just didn't miss a beat. He throws the ball, runs, does things really well. So I was pleasantly surprised by that and his bat is a bat that's going to play wherever. Whatever level he's at, his bat is going to do well."
Sunday capped off the week nicely for the Crabs, as they took a convincing 22-1 win over the Seals to complete the sweep of the weekend series. Fitzer and Davis continued their strong weekends with seven and three RBI's respectively while Aaron Perez also did damage against the visitors knocking in four runs of his own. It was an all local pitching duo for the afternoon as Caleb Ruiz took the start and struck out six batters before handing the ball over to Hayden Bode, who closed out the last two innings of the abbreviated game with a pair of strikeouts to his own name.
Davis has been one of the leaders for the Crabs offensively but also behind the plate as one of the team's primary catchers and was upbeat about the season that he's been having and enjoying with the team following Sunday's game.
"It's been a blast, really," Davis said. "You hear things about the Humboldt Crabs. You hear that the fans are great. It's a great community. Good baseball. You get here and it's everything you expect really."
Thomas Lal
Crabs first baseman Tyler Davis slides safely into third base on July 31.
Saturday's home run marked Davis' eighth of the season, putting him only two behind the all time single-season home run record for the Crabs organization.
"I'm sticking to my plan," Davis said. "It's a big thing for me when going up there. I want to hit, most of the times it's going to be a fastball so I'll get there trying to hit a fastball and then if I get it, I get it. If not, sometimes you've got to improvise."
Even as he approaches the single-season record, Davis says that he doesn't think too much about the stats and instead focuses primarily on himself and his own work in the batter's box.
"I usually do my own thing," Davis said. "I'll go on Gamechanger and look at the box scores of the games but I try to just keep focus on myself and keep the process."
With only one more week remaining in the season, Davis and the rest of the Crabs will be aiming to continue their winning ways and not let up the pressure as the Fresno A's and Sacramento Yankees roll into town to close out the schedule.
Thomas Lal
Crabs second baseman Colby Lunsford watches after making a play over to first baseman Aaron Perez for an out while facing Seals Baseball on July 29.
<!———EndFragment———>