U.S. Forest Service/Facebook
The Campbell Fire burns east of Willow Creek.
U.S. Forest Service officials saw an "increase in extreme fire behavior" yesterday on the eight active fires that comprise the Six Rivers Lightning Complex, prompting additional evacuations on the outskirts of Willow Creek.
The Humboldt County Sheriff's Office issued evacuation orders for residents in zones HUM-EO56 and HUM-EO57 — which include the Bigfoot subdivision under threat from the Bremer Fire — and warnings and orders remain in place for other areas east and south of Willow Creek. The Trinity County Sheriff's Office, meanwhile, also issued an evacuation order for the area around Salyer, just east of the Humboldt-Trinity county line, which is threatened by the Campbell Fire. (For a map of Humboldt County evacuation zones, click
here
.)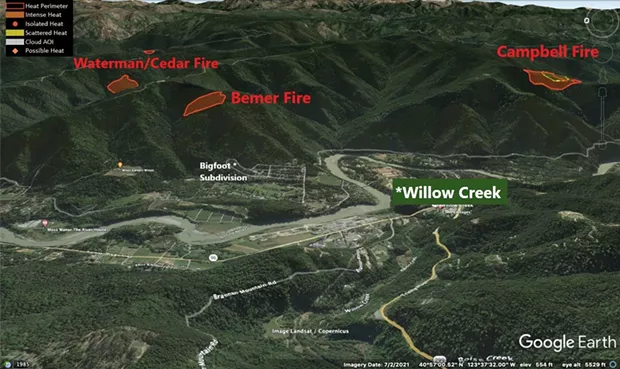 An evacuation center has been set up at Trinity Valley Elementary School (730 State Route 96) and the Hoopa Rodeo Grounds has been set up as an evacuation center for large animals.
The U.S. Forest Service, which is working to bring in crews and resources from the entire region to work with crews from CalFire and local agencies, warned that the fires are dynamic, burning in rugged terrain loaded with dry fuels.
"The Six Rivers Lightning complex is a very active emerging incident," the agency wrote on Facebook. "Evacuation orders and warnings frequently change. For your own safety, please adhere to all evacuation notices, and be ready to leave immediately should the situation worsen."
The fires were among 12 sparked by a pre-dawn lightning storm Aug. 5 throughout the area. Of those, eight remain actively burning and, according to the post, fire crews are prioritizing protection of "threatened structures, crucial infrastructure and important wildlife habitat." As of 9 p.m. yesterday, the first had
combined
to cover 1,100 acres with zero-percent containment.
Anecdotal reports on social media indicate fire crews were successful last night in protecting the Bigfoot subdivision and the Salyer Heights area, though both remain under immediate threat. Some residents reported leaving their homes — and in some cases animals — under evacuation orders, while others watched anxiously from areas under evacuation warnings as nearby blazes grew through the night.
"My life will change forever," one resident posted to Facebook with a photo of a vehicle leaving a gate under a hazy sky with an orange glow. "I don't know if this beautiful gate still stands tomorrow. my tears streaming down right now, my heart hurts, I'm not able to save all of my animals. Praying for my house, praying for my animals, praying for my neighbors."