Mark McKenna
Smoke rises from the Six Rivers Lightning Complex Fire as it burns near the Cavaletto Vineyard Estate across the river from State Route 299 near Willow Creek California.
The Humboldt County Sheriff's Office has issued new evacuation orders as the Six Rivers Lightning Complex continues to grow, threatening multiple communities around Willow Creek.
This morning, the Sheriff's Office issued an evacuation order for the HUM-E077-B zone south of Willow Creek, which comes after the office issued an evacuation order for zone HUM-E063-A yesterday afternoon. (Find a map of evacuation zones
here
.) The Sheriff's Office advises there is currently no immediate threat to Willow Creek proper. The Trinity County Sheriff's Office, meanwhile, has put the area around Hawkins Bar on evacuation warning after issuing an evacuation order for the Salyer area just east of the Humboldt-Trinity county line Saturday.
The complex, which initially comprised 12 fires sparked by lightning before dawn on Aug. 5, includes eight active fires that have now ballooned in size to more than 3,180 acres with zero-percent containment, according to the U.S. Forest Service.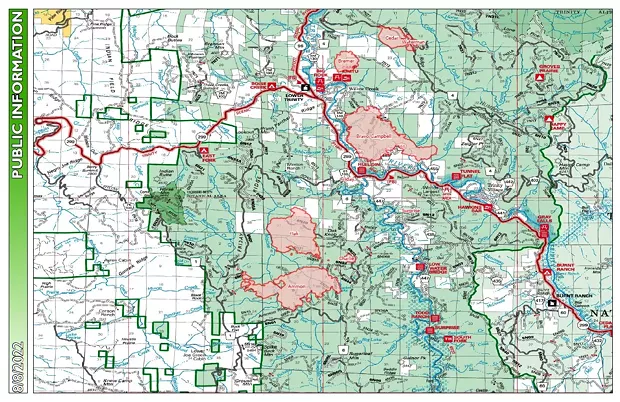 "This is a full suppression fire," the U.S. Forest Service, which is managing the response, said in a press release. "Firefighters will aggressively fight fire whenever it is safe to do so."
Today's efforts will see fire crews work to keep the fire west of Lone Pine, south of Horse Linto Creek, east of Brannan Ridge and north of Ammon Ridge, the agency reports, warning that conditions on the ground make the type of "extreme fire behavior" seen over the weekend very possible.
"Last year's snow event left a lot of trees dead and down on the ground," the agency reported in a press release. "If ignited, these can result in fire behavior that is more substantial than what would usually be anticipated this time of year."
A community meeting has been scheduled for 3 p.m. today at the Willow Creek Bible Church, 39 Brannan Mountain Road in Willow Creek, and an evacuation center has been set up at Trinity Valley Elementary School (730 State Route 96), with the Hoopa Rodeo Grounds serving as an evacuation center for large animals.
State routes 299 and 96 remain open, according to CalTrans, though fire conditions may necessitate closures.
An inversion layer and relatively high humidity are expected to moderate fire activity until this afternoon, when the inversion layer is expected to break, humidity will decrease and temperatures will increase, with winds forecast at 5 to 10 mph out of the north and gusts of up to 15 mph.
The North Coast Air Quality Management District has issued an advisory for areas in and around Willow Creek, saying smoke will render air quality unhealthy to very unhealthy, with "hazardous" periods possible.
Editor's note: A prior version of this story included an incorrect acreage estimate for the Six Rivers Lightning Complex due to incorrect information released to the
Journal
. The
Journal
regrets the error.