<!———StartFragment———>
There was a bittersweet feeling on the field as Eureka local Garrison Finck threw the last strike of the 2022 Humboldt Crabs season. The season was over with a 13-game winning streak to wrap up a highly successful campaign. Players took to the field to shake hands and celebrate a Crabs win one more time with teammates and family before heading back to home or school for the remainder of the summer. For Finck, a Humboldt player who was given the opportunity to close out the last game of the season, it was a fitting end for an experience many local players aspire to growing up.
"It was really cool," Finck said after Sunday's game. "Just like you said [growing up] seeing all the games, but it was even better coming in after Caleb [Ruiz]. Playing with him in high school and growing up, that was awesome to see him do as well as he has. But it's awesome. You don't really realize it until the end. But it was fun. Everything was fun about it."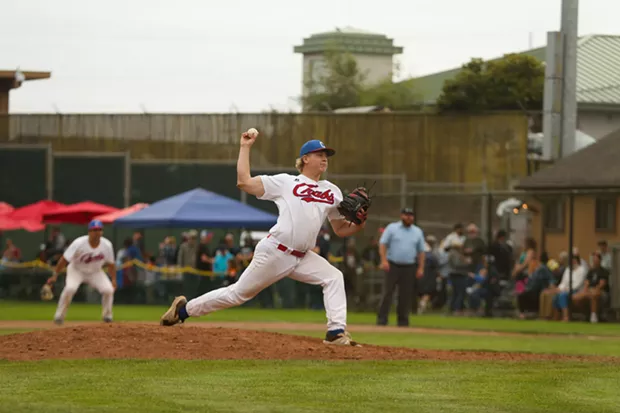 Thomas Lal
Crabs pitcher and Eureka local Garrison Finck throws a pitch in the last inning of the season on Aug. 7 at Arcata Ballpark.
Crabs Manager Robin Guiver spoke highly of Finck and all the local players who played for the Crabs this season following the final game.
"All the local guys we had this summer were awesome," Guiver said. "We had Hayden Bode, Cam Saso, he's another guy that did all kinds of great stuff for us on the mound, in the field, at the plate, all summer long. We didn't do a defensive player of the year award this year just because there just wasn't anyone that jumped out and you know, Cam played shortstop half the time or something but I would say he's our best defender. Caleb got pitcher of the year, Finck threw great innings all summer, Merek Sears was maybe our best pitcher before he left so it's great having the local guys contribute. We love it. We want to have the right local guys and we're going to continue to get them. And most likely there will be some of these guys that were on the team this summer come back next summer."


With nearly 1,000 people packing Arcata Ballpark for the season finale, Caleb Ruiz took to the mound to start the final game for the Crabs as he did through various big game days for the team over the course of the summer. After pitching on opening night and July 4, Ruiz looked well composed in his final start of the season even while working through trouble, allowing only two runs while striking out six batters.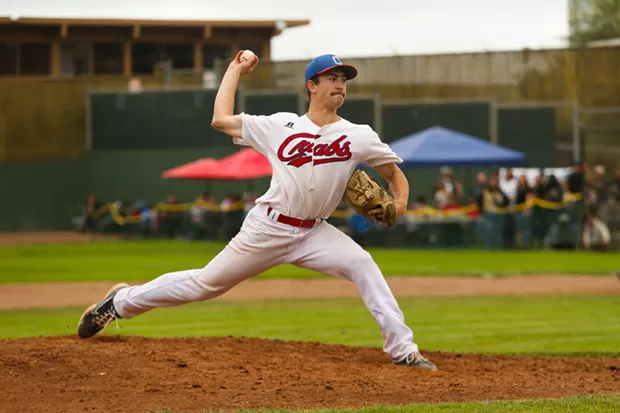 Thomas Lal
Crabs pitcher throws a warm up pitch during the last game of the season on Aug. 7.
After the final out was recorded, Guiver took to the field and announced the coaching staff's awards for the season with the easygoing and highly effective Javier Felix receiving the offensive player of the year award. Felix, who has been a key player for the Crabs all season, was equally valuable over the course of the final week and had a four RBI night against the Fresno A's on Tuesday including a three-run home run in the first inning.
"The summer has been short, fun and exciting," Felix said after the final game and receiving the award. "There's been nothing but good times. And nothing but having the fans out and enjoying great baseball games. And that's what I love the most about it."
With a team leading batting average with runners in scoring position of .424, Felix was one of the most capable players on the team when it comes to scoring runs early and often and is glad that he was able to reward his teammate's work getting into good positions.
"Being that guy, it's something hard but at the same time it makes my job easier when they do the job before I have to do mine," Felix said. "Get on and all I have to do is get them over or get them in. So it makes my job easier when the guys ahead of me are doing their job as well because without them I couldn't do my job. So I've got to give kudos to my guys ahead of me to getting me to the position where I'm at.'"
Thomas Lal
Crabs third baseman Javier Felix celebrates at home plate with teammate Tyler David after hitting a home run against TKB Baseball on July 26.
Guiver was also complimentary of Felix after the game pointing to the fact that Felix was also a candidate for the team MVP award.
"Javi hit all summer for us," Guiver said. "And not just hit, he was definitely in the conversation for MVP with Tyler [Davis]. Javi played a great third base, first base, laid out for balls whenever he could. Just played balls to the wall all the time."
In a season where the pitching staff was dominant for much of the summer, Guiver and his coaching team awarded co-pitcher of the year awards to Marcelo Saldana and Ruiz. Saldana posted the third best ERA of starting pitchers on the team with a 1.888 while simultaneously pitching the second most innings of the season with 47.2. Ruiz, to his credit, had a higher ERA with 2.374 but threw the most innings of any Crabs pitcher with 60.2. When Ruiz or Saldana were in the game, the Crabs only lost three times over the course of the entire season and were both commanding arms at home where neither pitcher lost a game.
Thomas Lal
Crabs pitcher Marcelo Saldana (Left), Garrison Finck (Center), and Kelan Scanlan (Right) embrace after the last game of the 2022 season at Arcata Ballpark on Aug. 7.
For Saldana, the summer was an overall great experience from everything happening on the field, to the atmosphere of Arcata Ballpark and the support of his teammates.
"It's a very special feeling to just be out here on the field being with this group of guys, coaches and all the fans," Saldana said after Sunday's game. "Everyone is supportive. I mean that was the big key this summer I thought. Everyone was trying to help each other get better and that was my goal too. Helping others, helping other pitchers, trying to help other guys get ready for their season as they're helping me get ready for mine."
Humboldt County as a whole also surpassed Saldana's initial expectations when he was told he could be traveling behind the Redwood Curtain to spend the summer playing baseball.
"I thought I was going to be in a small town in the middle of nowhere with not a lot to do," Saldana said. "But I really fell in love with the environment, with the atmosphere. I love it out here. I love everything about it."
Picking up the end of season MVP award was Tyler Davis who proved to be a force that opposing teams could rarely solve for long when he was in the game. Every time Davis stepped into the batter's box there was a feeling of expectation that something was going to happen and oftentimes the catcher and sometimes first baseman made it on base at the very least. Davis finished the season with a .375 batting average and .425 on base percentage to go along with his staggering total of 60 RBI's.
"Tyler's numbers were just off the charts," Guiver said following Sunday's final game. "You look at the home runs, the RBI's, he led us in stolen bases. And as a catcher that led us in home runs in RBI's, 60 RBI's is a pretty amazing summer for him."
Thomas Lal
Crabs catcher Tyler Davis throws the ball back to the mound after catching a foul ball behind home plate in the last game of the season at Arcata Ballpark on Aug. 7.
Speaking on the final week of the season as well as the summer as a whole, Guiver was pleased with the results that the team was able to finish with and how they stayed within their game through blowouts and close games as well.
"The Sacramento Yankees had good pitching all the way through,' Guiver said. "They had an offensive team, our pitchers did a good job of holding them down. Gave us good competition for sure. We want to play good games. We want to play tight games. We had a really good schedule overall this summer. We had a little stretch where we had a couple series in a row where we played some little lighter teams. And you know it's not what we love to do but there were some cancellations and fill-ins. But it is what it is, 36-10, at one point we were 8-8, we'll take it."
Thomas Lal
Crabs Manager Robin Guiver talks to the crowd after the final game of the 2022 season on August 7.
Summer baseball is always something special. Players come together from across the different programs to work together and hone their craft over the warm weeks that span from June to August. It's an environment that seems to bring out the best in the players and the community itself. With the 78th season of Crabs baseball coming to a close in Humboldt County, Guiver smiled as he looked out at the field at his 2022 team and spoke about what he would remember most from the season.
"Just a great group of dudes," Guiver said. "They really like each other. Just looking around right now watching them all hugging each other and they will all stay in contact with each other. A lot of these guys will play each other and look forward to seeing each other in their school uniforms and competing against each other. Looking around, there's old players that I coached 15 years ago that are here back enjoying this and there's some lifelong friendships going here."
Thomas Lal
The Crabs have one last huddle after the final game of the 2022 season at Arcata Ballpark on Aug. 7.
<!———EndFragment———>