Allie Hostler
Ceallaigh Kelley visits with her cat Brownie at an evacuation center in Willow Creek after both were evacuated from their home Saturday.
UPDATE: The free food distribution scheduled for tomorrow by Food for People in collaboration with Pay it Forward Humboldt and the American Red Cross has been moved to Dream Quest, 100 Country Club Drive, and we've updated this story accordingly.
PREVIOUSLY:
In the face of tremendous need, with hundreds of residents displaced by a series of wild fires sparked by a lightning storm less than a week ago around Willow Creek, Humboldt County nonprofits and residents have stepped up.
Donations — from donuts and dog food to livestock foster placements and meals — have come pouring into a variety of relief organizations and nonprofits that have stepped in as a part of a multi-layered disaster response.

"I really want to thank the community — the individuals, the businesses — everyone who has stepped up, just again and again," said Pay it Forward Humboldt Director Jessica Gregorio. "It's a year thing now. But this community is amazing. I love it."
With hundreds displaced — including dozens reportedly staying in an evacuation shelter set up by the American Red Cross — and the five fires collectively known as the Six Rivers Lightning Complex still uncontained, more help will likely be needed in what Humboldt-Del Norte CalFire Chief Kurt McCray warned will be "a long battle." But so far, organizations have been able to meet the need.
Here's a quick look at resources available for those in need and those who want to help:
For Those Needing Assistance

Food for People
, in partnership with Pay it Forward Humboldt and the Red Cross, will hold
a large free food distribution
from
1 to 3 p.m. tomorrow at Dream Quest
(100 Country Club Drive)
, offering free food to anyone impacted by the Six Rivers Lightning Complex Fire. Evacuees or others in need of food assistance can contact Food for People at (707) 633-8191 or emergency@foodforpeople.org.
Allie Hostler
Magnolia Kelley, a Pay it Forward Humboldt volunteer, unloads supplies at Dream Quest in Willow Creek, which is providing supplies to fire evacuees.
Dream Quest Teen & Youth Center
in Willow Creek (100 Country Club Drive, (530) 629-3564) is
stocking essentials
(masks, food boxes, blankets, hygiene products, etc.) and open from 10 a.m. to 6 p.m., Monday through Friday, until pop-up relief stations can be organized.
The
Hoopa Rodeo Grounds
(1767 Pine Creek Road, (707) 492-2851) has been turned into a
large animal shelter
, and has been helping to shelter smaller animals of those staying in the Red Cross evacuation center. The grounds cannot house goats, sheep, poultry or small animals, but "may be able to find temporary foster placements on a case-by-case basis." Allie Hostler, who is helping coordinate the effort, said the shelter has plenty of donated dog and cat food, and a list of people volunteering to foster, noting, "No large animals are without a safe and comfortable place to stay right now."
The
U.S. Post Office
in Willow Creek will be
holding any UPS or FedEx delivery packages
sent to residences in areas under evacuation order. They can be picked up during regular business hours — Monday through Friday, from 8:30 a.m. to 5 p.m., or 9 to 11 a.m. on Saturday — and the post office can be reached at (530) 629-2185.
Pay it Forward Humboldt
is also working to "serve as a liaison between the community that wants to help and the community that needs," Gregorio said. So if you're affected by the Six Rivers Complex Fire and need something, she encourages you to reach out. (707) 616-9191.
For Those Wanting to Help

Food for People
, Humboldt County's food bank, distributes nearly 2 million pounds of food annually and is a vital part of local disaster response efforts. For information on how to make a tax-deductible donation directly to Food for People, or to look into making a food donation to the nonprofit, visit
www.foodforpeople.org
or call (707) 445-3166.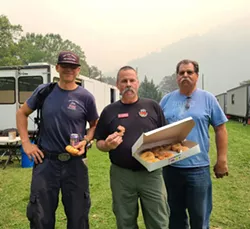 Pay it Forward Humboldt/Facebook
A fire crew from San Luis Obispo Fire Department enjoys a donut from Happy Donuts, delivered by Pay it Forward Humboldt, while responding to the Six Rivers Lightning Complex.
Pay it Forward Humboldt
works to fill in the gaps between other disaster response agencies and those in need of assistance. For example, when Happy Donuts recently offered to donate hundreds of donuts to evacuees and firefighters but had no way to get them to Willow Creek from Eureka, Pay it Forward coordinated pick up and distribution. (Gregorio said the treats were especially well-received by grateful firefighters: "It was wonderful to see a big smile on their faces from something as simple as a donut.") Pay it Forward is a certified nonprofit and tax-deductible donations can be made by check (Pay it Forward Humboldt, 326 I St., Suite 102, Eureka, CA 95501), via Venmo (@payit-forwardhumboldt), via PayPal (Payitforwardhumboldt@gmail.com, selecting the "Friends and Family" option to ensure the full donation is received) or through the Humboldt Area Foundation
here
.
"We're small," Gregorio said. "We don't pay anyone. Everything that comes in, goes out."
The nonprofit also maintains a list of current nonmonetary needs on its
Facebook page
. It currently includes box fans, basic pleated air filters (8 MERV rating), gift cards for fuel or essentials, water, snacks, men's socks, deodorant, paper towels, hair ties, gallon Ziploc bags, women's depends (size medium), sleeping mats and sleeping bags. If you have any of these items to donate — or have other nonmonetary donations you want to get to people in need — call or text the nonprofit at (707) 616-9191.
And Gregorio says, perhaps more than anything, the nonprofit needs volunteers.
"The money and the goods donations are huge, but getting people there to deal with it all is also huge," she said.
Editor's Note: This story has been updated to reflect a change in location for the Food for People food distribution event.