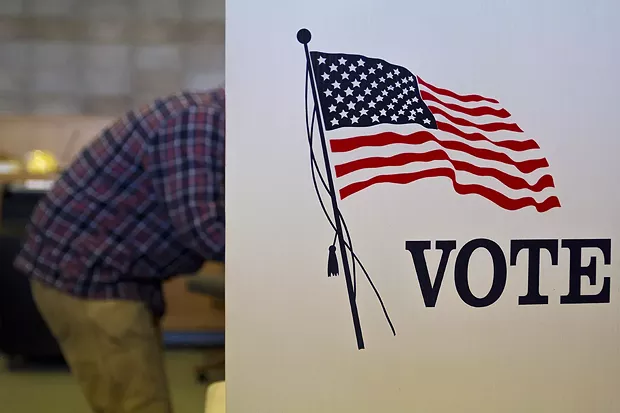 File
Local election season is officially ramping up.
The list of candidates vying for open city council seats across Humboldt County is now set for the November election, which will also see dozens of local school and special district board races on the ballot.
Over in Arcata, six candidates are seeking to fill two open seats, including incumbents Meredith Matthews, who was appointed in July of 2021, and Brett Watson, who in May rejected calls to step down in the wake of an investigative report that found he abused his power and harassed a city employee. His fellow councilmembers stripped him of assignments and he has had his access to staff restricted
Also in the running are Planning Commission member Kimberely White and Dana Quillman, who each threw their hats into the ring for the city's June special election in addition to 2020 and 2006, respectively, as well as small business owner Raelina Krikston and local American Legion Post 274 Commander Jeffrey Scott Sterling.


In Eureka, two council seats — Ward 3 and 5 — are up for grabs.
The separately elected mayor's post is already settled, with Ward 5 Councilmember Kim Bergel, who is termed out of office, the sole candidate to qualify. Likewise for incumbent Leslie Castellano's return to the Ward 1 seat.
With Ward 3 Councilmember Natalie Arroyo also termed out and now headed to the supervisors' dais, that race includes John Fullerton, a certified public accountant who ran unsuccessfully in 2016 and 2018, and Eureka City Schools trustee G. Mario Fernandez. Over in Ward 5, Oberon Grill owner Nicholas Kohl and community volunteer Renee Contreras DeLoach, a previous Humboldt County Civil Grand Jury member with a background as an auditor and debt and liability consultant, are in the running.
In the Eel River Valley, Fortuna has five candidates looking to fill three open seats.

Vying for a place at the dais are incumbent Mike Johnson, who has served on the council since 2018, firefighter and Fortuna School Elementary School District board president Kyle Conley, businessman Henry Wotherspoon, business manager and community volunteer Christina Mobley and business financial professional Arlene Spiers.
Over in Ferndale, four candidates are running to fill the two council seats up for a vote while another three are looking to serve as mayor for the two-year term.
On the mayoral side, longtime councilmember Stephen Avis, former Ferndale Unified School District board member Cory Nunes and Randall Cady are in the race.
Looking to take one of two council seats up for election are marriage and family therapist Stuart Altschuler, former member Jennifer Fisk-Becker, Francis Creek Inn owner Brenda Vait and Alan "Skip" Jorgensen, an alternate member of the Local Agency Formation Commission and a previous Humboldt County Civil Grand Jury foreperson and longtime Ferndale High School football coach.
Down in Rio Dell, the race is complete, with incumbents Debra Garnes and Julie Woodall and elementary school teacher Robert Orr taking on the three open seats.
Moving back up north, Blue Lake has two candidates for the pair of two-year seats — current Councilmember Alice Finen and Angela Shull — while three candidates are running for two four-year terms: Christopher Edgar, Elise Scafani and Elizabeth Mackay.
Rounding out the races, Trinidad has four candidates seeking one of three seats on the council, appointed incumbents Jack Tuttle and Cheryl Kelly, Kati Breckenridge and business owner Michael J. Morgan.
The election takes place Nov. 8.