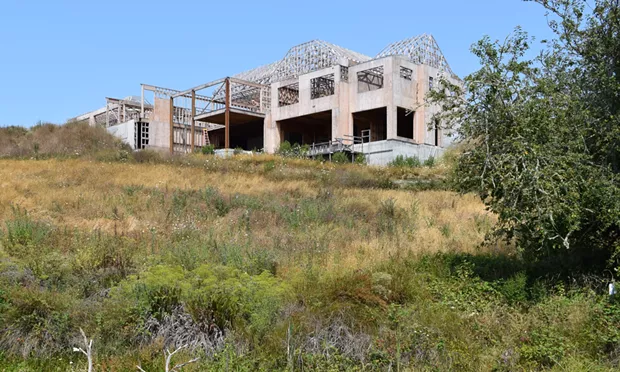 Submitted
Travis Schneider's family home has sat partially built under a stop work order since early this year.
When then Humboldt County Planning Commission Chair Alan Bongio did some undisclosed concrete work at local developer Travis Schneider's home, it may have been during a more than eight-month period in which Schneider was building without a permit, the
Journal
has learned.
According to Schneider, Bongio did the concrete work on the project one day in 2019, though he said he didn't know the exact date. Humboldt County Planning Director John Ford, meanwhile, confirmed to the
Journal
Tuesday morning that much of the work done on Schneider's property that year happened before the developer had received a building permit for the project, which was finally issued Nov. 27.
Responding to a
Journal
inquiry about seeming inconsistencies in the permitting and construction timelines, Ford said a building inspector confirmed unpermitted work was underway on the home in March of 2019 and Schneider was informed he did "not have a building permit and needed to obtain one."
Construction on the home continued, nonetheless, Ford said, despite the director describing it as "not allowed." Ford said he does not know whether the county considered issuing a stop work order.
"I was not aware of this project at the time," he said. "There was a different chief building inspector at the time. Today, we would issue a stop work order."
It's also unclear if Bongio knew of Schneider's building without a permit, either before or after he did the concrete work there. But when the issue of Schneider's most recent permit violations came before the Planning Commission on Aug. 18 and Sept. 1, Bongio disclosed having various ex-parte communications with Schneider and having been to the site, but not that he has a familial relationship with the developer (Bongio's sister is Schneider's wife's aunt by marriage) or that he'd personally volunteered his time to work on the project.
Modifications to Schneider's coastal development permit and a new permit came before the Planning Commission on Aug. 18, months after a stop work order halted construction of the home due to permit violations. Specifically, Schneider was found to have built on a footprint different than the one on approved plans and thus encroached on wetland setbacks on the property. Additionally, he was found to have cleared environmentally sensitive habitat and graded over a known culturally sensitive Wiyot site, both in violation of his permit conditions, while also cutting an unpermitted temporary access road on the property.
Since Aug. 18, it has also been reported that Schneider began construction without a necessary septic permit, and that his approved building plans are for a home twice the square footage allowed under the guiding coastal development permit issued for the property.
Read more in this week's
Journal
, on newsstands today.