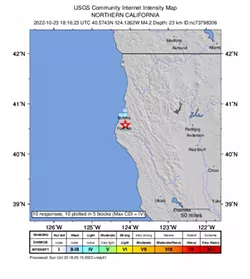 A magnitude-4.1 earthquake struck 3 miles from Fortuna at 11:16 a.m., according to the United States Geological Survey. There were no immediate reports of damage.
The USGS initial report states the temblor struck at a depth of nearly 15 miles.
There is no danger of a tsunami being generated, the N
ational Tsunami Warning Center said in a statement.


Editor's note: This story was updated to correct the depth and to reflect a change in magnitude made by USGS.