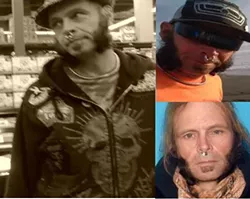 The Humboldt County Coroner's Office has identified the remains found in Rohner Park last week as belonging to Fortuna resident Lewis William Leckliter III, who was last seen in August. He was 48.
Humboldt County Sheriff's Office spokesperson Samantha Karges told the
Journal
in an email that he was identified by a family member by "a unique and recognizable tattoo" and the "positive identification was also supported via other evidence collected on scene, including clothing and other possessions."
She said the cause and manner of death are believed to be a self-inflicted gunshot wound.
Leckliter's body was recovered Oct. 29 after being found near the park's hiking trails. A deputy coroner responded to the scene but an immediate identification was not possible due to the body's condition, according to Karges.
Anyone with information about the case is asked to call the Humboldt County Sheriff's Office at (707) 445-7251 or the Sheriff's Office Crime Tip line at (707) 268-2539.
Those experiencing mental distress or a sense of hopelessness, meanwhile, are encouraged to reach out for help.
The county of Humboldt maintains a 24-hour mental health crisis line at (707) 445-7715. Additionally, a national suicide prevention lifeline can be reached at (800) 273-8255 and a crisis help text line can be reached by testing "HELP" to 741-741. Additional local, state and national resources for those in distress and their loved ones can be found
here
.