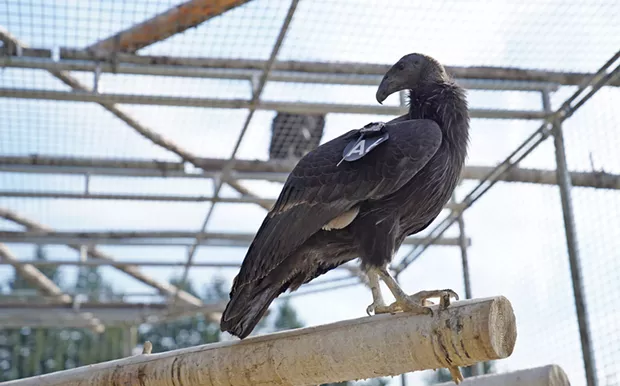 Matt Mais/The Yurok Tribe
A6 is now flying free.
After several tries, A6 — the last of a second cohort of California condors that arrived in mid-August as part of the Yurok T
ribe-led effort to return the endangered species they hold sacred and know as prey-go-neesh to its historic range — is now flying free.
The eighth of the massive birds with a nearly 9-foot wing span in the North Coast's first flock in more than a century, the young male took off from the release enclosure just before 8 a.m. yesterday after several previous attempts over the last week.
Like the others, A6 was gifted with a Yurok nickname, 'Me-new-kwek,' by Yurok Tribe Wildlife Department Director Tiana Williams-Claussen, which she says means "I'm bashful" or "I'm shy."
"A6 has definitely been one of our more reserved birds, even timid, and least dominant. I originally hesitated on this name because I did not want to give him a nickname that would hold him back," she said in a message posted on the Northern California Condor Restoration Program's Facebook page.
"But then I remembered that I'm shy. It's definitely a major part of who I am, and all in all I think my life's pretty great," she continued. "A6 is quieter, but when you catch him alone you can start to see his personality shine. I think he's going to bring great things to our free-flying population, just being himself."
The North Coast flock also includes Ney-gem' 'Ne-chween-kah (She carries our prayers, A0), Hlow Hoo-let (Finally, I/we fly, A1), Nes-kwe-chokw' (He returns/arrives, A2) and Poy'-we-son (The one who goes ahead, "leader," A3) — that took their historic flights in May and July, becoming the first of the massive birds with a nearly 10-foot wingspan to do so locally in more than a century — as well as Cher-perhl So-nee-ne-pek' (I feel strong, A4); and Neee'n (Watcher, A5) that were released last month and
He-we-chek' (I am healthy or I get well, A7).

In an update yesterday on the Yurok Condor Live Feed page, the NCCRP team posted that A6 had
"already found a good high roost and seems content there to reassess his place in the world. He has multiple NCCRP staff following him from hidden observation points to make sure he has as safe an environment during is first days out, while he learns the ropes of wild condor life."

The team also stated that A7, who flew the coop last week, is "flying well and continues to explore the release region. She made some directed movements toward the release site (Tuesday), but still has some geography to navigate to get back. Although most staff will be involved following A6 (Wednesday), at least one person will continue to follow A7's progress."


The NCCRP, a partnership between the Yurok Tribe and Redwood National and State Parks, plans to reintroduce new cohorts of prey-go-neesh every year for at least the next two decades, with the goal of acting as a gateway for spreading the species up into the Pacific Northwest.
Find out more about the effort
here
.