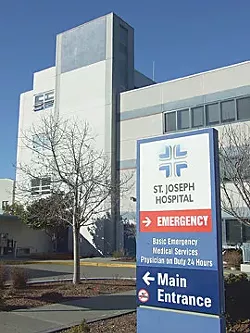 FIle
St. Joseph Hospital.
Following a trend seen across the state, region and country, local hospitals are nearly at capacity amid a surge in respiratory illnesses that's being dubbed a "tridemic" or "tripledemic" by some.
"With the circulation of multiple respiratory illnesses, such as RSV, influenza and COVID-19, we, like the rest of Northern California, are experiencing a significant increase in visits to our emergency department, most notably pediatric patients," Providence St. Joseph Hospital spokesperson Christian Hill told the
Journal
by email. "In some cases in order to ensure patients receive the level of care that meets their specific needs, they are transferred to an appropriate care setting out of the area."
During a press briefing before Thanksgiving, California Health and Human Services Secretary Mark Ghaly warned that COVID transmission was increasing throughout the state, noting that a hospital in San Diego had begun using an overflow tent to treat patients outside amid a surge in flu cases.
The surge has grown so severe in some areas, like Fresno, Madera and Tulare counties, that officials instituted a "assess and refer" policy, giving first responders the authority to decide whether a patient is transported to the hospital as officials urge residents to avoid calling an ambulance unless experiencing a "life or limb-threatening emergency."
Throughout the Pacific Northwest and in patches across the country, emergent pediatric care has been stretched to the brink, as hospitals have struggled to keep up with a steep increase in children sick with respiratory illnesses. Tony Woodward, the medical director of emergency medicine at Seattle Children's Hospital, recently told reporters the hospital's ER is at fully capacity almost constantly and can reach up to 300 percent of capacity in the evenings.
According to a
dashboard
maintained by
USA Today
's
The Californian
, about 70 percent of local hospital beds are currently full, including 62 percent of intensive care beds. (It's unclear if the dashboard accounts for staffing limitations or just looks at physical capacity.) According to the dashboard, 1,149 residents have sought emergency care over the past seven days, including 43 who were confirmed to have COVID-19.
Hill said in order to maintain capacity, the hospital is strongly encouraging residents to "get your seasonal flu shot, latest COVID booster, as well as practicing good hygiene, and staying home from school, work or holidays parties when sick."
He stressed, however, that residents in need of service should not delay seeking timely medical care, as the hospital continues to "provide exceptional care."
An attempt to reach Mad River Community Hospital for this story was not immediately successful but we'll update if we hear back.