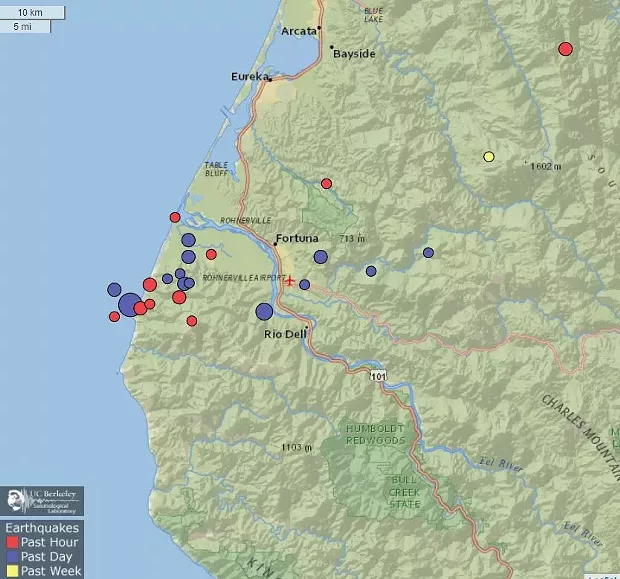 Humboldt County Sheriff William Honsal has declared a state of emergency in response to this morning's magnitude-6.4 earthquake, which left two dead and potentially hundreds displaced while severely damaging Fernbridge.
According to a news release, the declaration allows
"the county to seek state and federal reimbursement for damage repairs and other associated impacts. The amount of funding depends on the agencies that assist, including the state of California and federal government."
An overnight shelter has been established by the American Red Cross-Gold Country Region in Fortuna at the Rohner Park Firemen's Pavilion for those displaced by this morning's magnitude-6.4 earthquake.
The shelter, located at 9 Park Street, will provide accommodations, meals, water and earthquake information. For more details, contact (707) 506-5083. Meanwhile, a boil water advisory remains in effect for hard-hit Rio Dell and Fortuna due to damaged water infrastructure.
Residents in Rio Dell and the Forest Hills Subdivision, including Forest Hills Drive, Newell Drive, Valley View Drive, Boyden Lane, Scenic Drive, and Cypress Loop Road, in Fortuna are warned not to drink water without boiling it first. Water should be boiled for one minute and then allowed to cool.
According to the Humboldt County Office of Emergency Services, potable water is available at the following locations: Rio Dell Fire Hall, 50 West Center St. in Rio Dell and Rohner Park Pavilion, 9 Park St. in Fortuna. "Boiled or bottled water should be used for drinking and food preparation until further notice," the OES update states."Boiling kills bacteria and other organisms in the water."
The powerful 2:34 a.m. quake hit about 7.5 miles west of Ferndale, caused widespread power outages throughout Humboldt County, with approximately 71,000 PG&E customers affected, according to the company. As if 5 p.m., about 20,000 residents have had their power stored, including parts of Eureka, while other residents reporting they have received text notices that power may not be back up where they live until tomorrow.
At least a dozen people were reported injured and two died "as a result of medical emergencies occurring during and/or just following the earthquake, " according to OES.
Shaking was felt as far east as Redding, and as far south as the San Francisco Bay Area, according to California Emergency Services Director Mark Ghilarducci.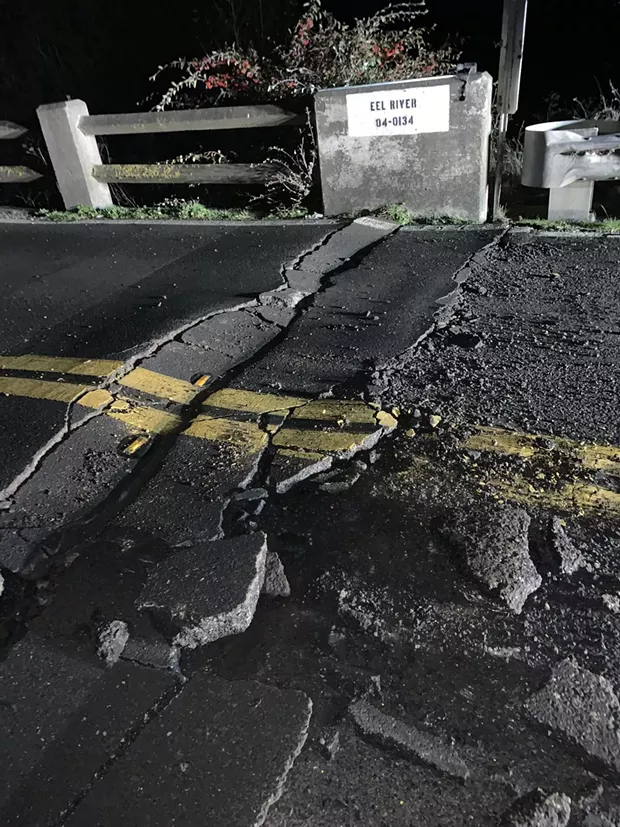 Twitter/Caltrans
Fernbridge suffered significant damage in the quake and is currently closed to all but emergency vehicles.
Sheriff William Honsal said earlier today that damage reports have been mostly centered in the Eel River Valley, with Rio Dell the hardest hit. Fernbridge was also seriously damaged in the quake and has been closed indefinitely.
Sen. Mike McGuire reported via Twitter that $6 million in state funds has been secured for emergency repair on the more than 100 year Fernbridge, which serves as a vital link and is currently closed to earthquake damage. He also states that all "other state bridges and over crossings have been inspected and cleared."
From OES: