Mark McKenna
Members of the Rio Dell Volunteer Fire Department hand out water to community members after the city water supply was disrupted by the Dec. 20 quake.
Already battered from the magnitude 6.4 earthquake on Dec. 20, the city of Rio Dell suffered "far more significant" damage in the 5.4 quake that rattled Humboldt County on New Year's Day, according to City Manager Kyle Knopp.
"These earthquakes were absolutely scary," he said. "After the first event, we had a lot of people in shock and very visibly so. And then the second aftershock was just as impactful psychologically to people. The lived experience in Rio Dell is that it is the aftershocks that are the most dangerous and the most impactful. In '92, it was the second aftershock, I believe, that actually broke the gas line in Scotia that burned down part of the town. In this community, that's a lived experience, just the knowledge that the initial event is just the beginning."
Nick Angeloff, president of the Rio Dell Chamber of Commerce, which has partnered with the Rio Dell Community Resource Center to create a relief distribution hub out of the chamber office at 406 Wildwood Ave., said the cumulative impact of the two events, coupled with the sense that more may be looming, is taking its toll.
"The unknown is really starting to impact people and traumatize folks down here, for sure," he said. "There's a lot of trauma in this town right now. And I imagine after this storm, there's going to be more."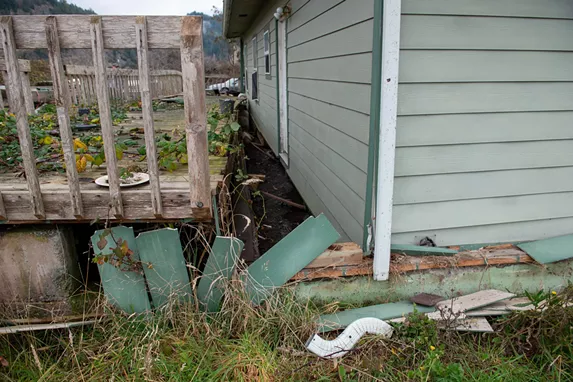 Mark McKenna
A house near Painter Street in Rio Dell was knocked several feet off its foundation by a 6.4 earthquake that hit the area Dec. 20.
Forty-one homes have been deemed unsafe for occupancy and red tagged since the Jan. 1 quake, Knopp said, with 170 people now displaced between the two events — equivalent to about 5 percent of the city's population. Thirteen people spent the night of Jan. 1 in a Red Cross shelter set up at the local middle school, with 12 there the following night. And Knopp said the numbers could grow as inspections continue in the coming days, noting the city has requested a team of 16 state inspectors to assist with the effort.
"These are all just initial damage assessments, all done on paper by the local team," Knopp said, adding that inspectors from the county and the city of Eureka came to Rio Dell after the latest quake struck at 10:35 a.m. on Jan. 1, deemed an aftershock of the Dec. 20 temblor.
Knopp said the aftershock's shaking was felt more severely in a different part of town than that of the Dec. 20 quake, which was felt strongest in the northern part of the city. The aftershock, Knopp said, caused more damage in the southern part of the city, hitting the business district and some higher-density housing especially hard. Knopp said 29 of the housing units red tagged after the Jan. 1 temblor were units in a single, 49-unit, federally designated low-income apartment complex, while adding that businesses are also reporting more damage, including broken windows and cracked walls.
The red tags have a reverberating impact in town, Angeloff said, as the toll of the ongoing disaster comes into sharper focus.
"Almost 10 percent of our housing stock has been red tagged," he said. "After this earthquake, it's going to be at least 10 percent of our our town that is homeless and that's traumatic, and everyone knows somebody. And we're all helping each other out but it's significant here and there is a lot of PTSD, a lot of trauma. I can't emphasize that enough."
Knopp said he was told that a number of displaced people staying in the Red Cross shelter chose to "hightail it out of town in fear of another aftershock coming."
If there's good news from the Jan. 1 quake, Knopp said it's that the city's water distribution system fared better than it had on Dec. 20, noting that other than "one particularly troublesome" section servicing 10 to 15 homes, the rest of the system is currently operational.
There are, however, other infrastructure concerns. Knopp said the aftershock created more "road deformations," noting the most significant appears to be cracks that have appeared in a concrete structure support on Monument Road that was created to repair damage to the road in the 1992 earthquake. The damage may look worse than it is, Knopp said, adding that he's also concerned about a slip-out on Upper Monument Road in the face of the upcoming storm. If the road is deemed unsafe — or a section of it comes down — Knopp said that would isolate about a dozen residences within city limits, as well as a host of others in bordering unincorporated areas.
Mark McKenna
A house on Painter Street in Rio Dell was red tagged after being knocked off its foundation the Dec. 20 quake.
And Knopp said he worries about the upcoming storms, saying at a minimum they will make structure inspections more difficult and threaten to inundate the city's wastewater system with storm water.
Angeloff said that while the water system might be largely back on track, damaged pipes and plumbing in the property owner side of the system are still leaving an estimated 20 to 30 percent of residences without water. He said plumbers to help with repairs and hot water heaters are in especially high demand.
Ryan Heussler, assistant chief of the Rio Dell Volunteer Fire Department, said that was a need immediately apparent after the first quake. The department was busy with the initial response, which Heussler said Chief Shane Wilson orchestrated flawlessly and saw the department respond to dozens of calls the morning of the quake.
But when things calmed down a bit, Heussler said he noticed that days after the quake his neighbor Randy Jensen, the city's water and roadways superintendent, whose own home was badly damaged in the quake, was still working around the clock trying to get water service restored. Heussler said that prompted him to mobilize his construction crew, RH Construction, to provide free plumbing services to repair main lines and essentials, wanting residents to have at least "hot water and one working toilet" to meet basic needs.
"I just thought, 'If he can do that, I can do this,'" Heussler said, adding that his crew worked on more than 40 homes, all of them of seniors or low-income residents. "People were really awesome and really thankful for what we were doing. I have no idea, honestly, what it cost me but it doesn't matter. I was born and raised here — it was a have-to-do."
Just prior to the devastating aftershock, the city hosted a two-day assistance center for residents to register damage and apply for relief on Dec. 30 and Dec. 31 that was attended by about 300 people. The fair was successful in connecting people with available services but those hoping to see a full-scale federal disaster relief response will likely be disappointed.
Federal Emergency Management Agency (FEMA) responses aren't triggered until a disaster reaches a threshold of $70 million in damage, according to the Congressional Research Service. That's an almost impossibly high bar for a localized disaster in a rural, economically challenged area, one that has only been met in recent years by disasters that have struck other areas, as well, like the 2011 tsunami that decimated Crescent City Harbor, causing an estimated $50 million in damage, and caused another estimated $25 million in damage in Santa Cruz, which cumulatively was enough to reach the agency's threshold.
But that's not the case here, meaning Rio Dell will likely be left to rebuild with local and state resources. That doesn't sit well with Knopp.
Knopp noted that in a recent recovery briefing someone mistakenly described the threshold as being a number of damaged homes only to be corrected that "it's not about the number of homes, it's about the economic value of those homes."
"So homes damaged in Rio Dell do not equal homes in Bel Air or Malibu or elsewhere, and this is a real problem," Knopp said, giving a nod to the fact that, according to U.S. Census data, where it would take the total loss of more than 300 Rio Dell homes to reach the FEMA threshold, it would take only 35 in richer enclaves mentioned. "This is by far the biggest disappointment, and there is a huge equity issue in this country and in this state regarding FEMA disaster declarations, where a severely economically disadvantaged community that sends its sons and daughters off to the armed forces just like every other city isn't receiving assistance from the federal government. I'm just going to say it's shameful and I hope it is corrected as soon as possible."
North Coast Congressmember Jared Huffman said he is well aware of the inequity and would like to see it changed.
"I don't like this threshold and the way it's calculated and the way it plays out in rural communities, but it's not something that we're going to be able to change overnight," Huffman said, adding that Humboldt County is unlikely to see the full FEMA response that's so visible in other major disasters.
Huffman said he would support changing the threshold or creating alternative ones for rural areas, noting it's an issue his district has run into repeatedly, most recently when Trinity County lost more than 70 homes in wildfires a few years back yet "didn't even come close to qualifying."
As to what can be done to help Rio Dell, Huffman said he's weighed in with the Small Business Administration in an effort to make sure low-interest loans will be made available to businesses and homeowners to fund earthquake repairs, and that funds will be available for any transportation infrastructure repairs needed, noting the damage to Fernbridge.
But with no federal cavalry coming, locals will largely have to depend on locals to help them through the quakes' aftermath and the coming storms, which were forecast to bring high winds and more than a week of steady rain to the North Coast as the Journal went to press Jan. 3.
Angeloff, who was hustling around the distribution center inside the chamber office while talking to the Journal, said its been busy distributing food, jackets, clothes, blankets, pillows, tarps and more to residents in need, with the city handling home deliveries for seniors and other homebound folks. He said donations of all types are welcome but asked they be channeled through Pay it Forward Humboldt to streamline drop offs and make sure they get where they're needed most. He stressed that the city also needs contracting and plumbing services, noting there are a lot of repairs to be done, and water heaters — lots of water heaters.
Pay it Forward Humboldt Executive Director Jessica Gregorio said her nonprofit has been scrambling to meet the already existent needs "amplified" by the aftershock and coming storm. She said the community's needs are fluid — one minute it'll be diapers, the next a volunteer to do a senior's laundry.
"We're pedaling as fast as we can to fill in the gaps," she said, adding there are many organizations working together to provide support.
Gregorio asked that anyone looking to donate goods first check out the updated list she has at
tinyurl.com/HumQuake
to see what's needed and where it can be dropped off. And she said anyone willing to volunteer will be put to work in the effort, adding that she's tremendously grateful for all the support received.
Bracing for the storm after almost two weeks of earthquake recovery work, folks like Angeloff stressed that while Rio Dell was hardest hit by the quake, everyone impacted locally is welcome to stop by the distribution center and pick up what they need.
"Anyone in the Eel River Valley or anyone in the county can get over here and get some resources, if they need it," Angeloff said. "Remind them Rio Dell is here and we have resources to help them."
Editor's note: This story has been updated from a previous version, which misspelled Randy Jensen's name. The
Journal
regrets the error.