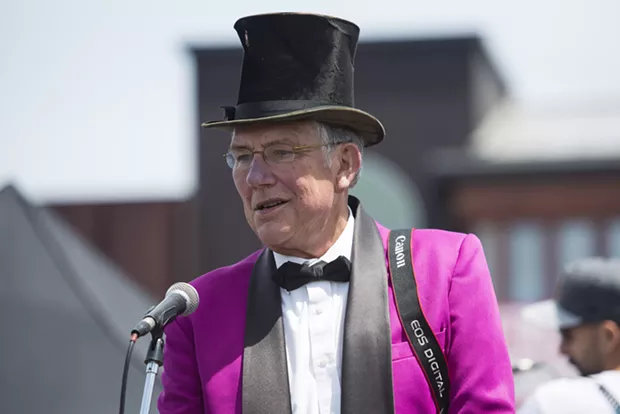 Mark McKenna
Dave Silverbrand.
Long time local news personality Dave Silverbrand, beloved by many for his folksy demeanor and near constant presence on local airwaves over the span of decades, died of congestive heart failure Jan. 6. He was 76.
Silverbrand, who spent more than 20 years as a television reporter for WGME-TV in Maine before relocating to Humboldt County in the 1990s, where he went on to work for various television stations as a reporter and news director, teach journalism at College of the Redwoods and pen a regular column for the
Times-Standard
. Among Silverbrand's career highlights were conducting a sit-down interview with then Vice President George H.W. Bush and later covering his presidential inauguration. He also authored several books including
Dave's House: Love, Loss and Life in the Redwoods, Dave's House II: How I Survived the Pandemic
and
Dave's People: A Maine Television Adventure
.
On the North Coast, however, Silverbrand is most widely remembered as a community fixture, someone who loved Humboldt County and its characters and relished exploring them and sharing them with his viewers.
"Reporting was Silverbrand's passion, and he was so grateful to continue living his dream until the end of his life," KAEF News Director Nazy Javid, who worked with Silverbrand since he joined the station in 2019, told Maine's WGME. "He was the best storyteller. People trusted him. They loved him. Our team loved him."
Silverbrand was also an avid supporter of Access Humboldt, and volunteered many hours for the nonprofit, while also sharing personal programs. In 2017, Matt Knight produced the Community Voices feature below, in which host Dave Silverbrand interviews guest Dave Silverbrand.
A funeral mass will be held for Silverbrand on Jan. 13 at 1 p.m. at St. Bernard Catholic Church, 615 H St. in Eureka.