In response to the cancelation of the planned Dragging Through History fundraiser for local nonprofit Lost Coast Pride at the Old Steeple, Humboldt's chapter of the Sisters of Perpetual Indulgence, an LGBTQ+ organization engaging in activism that parodies faith-based bigotry, has announced it will hold a Non-Judgement Day on Sunday, Jan. 22 at Ferndale's Town Hall.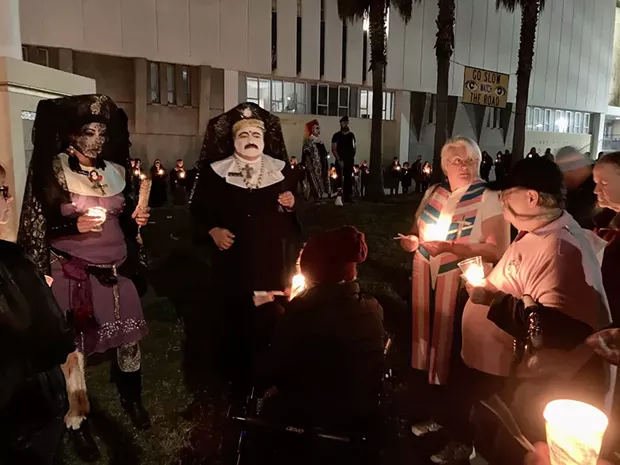 File
The Sisters of Perpetual Indulgence at their Nov. 20, 2022 vigil following the Club Q shooting in Colorado.
The Old Steeple canceled a planned all-ages drag show over safety concerns after St. Mark's Lutheran Church posted a message on its sign saying, "Beware" and describing the yet unpublicized show as for children. Old Steeple owners Cheri and Paul Beatie cited the bigoted and inflammatory rhetoric the church's pastor Tyrel Bramwell has espoused in the past, and the recent escalation in violence toward LGBTQ+ people and drag venues and performers, and said they were worried about the safety of their family and students who attend music classes at the venue.
A Jan. 15 press release from the Sisters invites anyone who is "queer, [a] queer ally, parenting children with investment in building a diverse community for youth wellness, Christian and upset that other Christians have your Lord's messaging All Wrong Right Now, a performer or artist who feels the violence of censorship, a person who feels silenced or invested in anti-bullying, hopeful to build community connections with awesome queer people," to join the event. Those who attend the "queer Communion" are invited to bring signs, speak or, if they play an instrument, join in playing Johnny Cash's "Ring of Fire."
"Sister Mary wanted us to have a singalong portion and she thought 'Ring of Fire' would be fun and campy," says Sisters of Perpetual Indulgence member Sister Gaia T, who notes the Johnny Cash song uses the imagery of damnation but is actually about falling in love. As a winking reference to the song, the Sisters will hand out "communion" gummy peach rings.
Sister Gaia T, who moved to Ferndale three years ago to be closer to family, says she sees the town as having become more accepting in the last several years, adding there are a number of faith-based organizations that are LGBTQ+-friendly. "I think Ferndale is a very caring and community-oriented place," she says. "To see these pockets of discrimination — they are disheartening and impact the Eel River Valley and Ferndale in particular. … Our hope is by uplifting joy and nonjudgement we will not give fuel to the fire in which ppl feel justified in their hate."
While previous events have gone without disruption and Sister Gaia T doesn't foresee violence from anti-LGBTQ+ counter-protesters on Sunday, the Sisters have a few safety and de-escalation plans in place. Still, the deadly November shooting at Club Q in Colorado and other hate crimes against LGBTQ+ people loom over gatherings. "This is a larger national trend and following on the heels of the right-wing populist movement that is occurring and showed up at Redwood Pride [Halloween]." The Sisters, she says, maintain a message of positivity. "Our goal is always to expiate stigmatic guilt and promulgate universal joy."
The Sisters are not the only local LGBTQ+ organization to pitch in. Patches' Pastries, which is trans owned, has also stepped up to aid Lost Coast Pride with a fundraiser. The sweets spot located in the Humboldt County Fairgrounds will host a silent auction from noon to 4 p.m. on Saturday, Feb. 11, featuring entertainment, food and drink. And Queer Humboldt has also posted a call for submissions of poetry, art, stories, photography and memes for a fundraising zine, BeWearing Something Fabulous. The "queer community zine" is to be published "in response to the bigotry that resulted in a Ferndale drag fundraiser being canceled." Contributors can send submissions to info@QueerHumboldt.org.
A Facebook post from Lost Coast Pride asks that attendees not disrupt Bramwell's Sunday service or enter the sanctuary of church property. "Please please don't violate that. We don't like it and it makes us feel very unsafe when it happens. It would be the same for those folx as well," the post reads. "Bramwell creates this drama." Organizers also warn that disrupting service would allow the pastor to continue to frame himself and his followers as victims of harassment. Instead, the post urges supporters of the LGBTQ+ community to "Show up in numbers to events that happen here locally. THAT shows unity. THAT is a slap in the face to hate and bigotry."
The Sisters of Perpetual Indulgence attended the Jan. 18 Ferndale City Council meeting to ask that its members attend the Non-Judgement Day in support of LGBTQ+ people. "The sisters have been organizing around LGBTQ topics for 16 years. … We have to show up to make sure there is a counternarrative [to anti-LGBTQ+ rhetoric] and to bring our message of love and joy and acceptance in the face of that," says Sister Gaia T. "But we're not going anywhere. … And we will not hide. Many of my sisters and elders lived through much harsher times than we're in."

Editor's note: This story originally appeared in The Ferndale Enterprise.