On Jan. 22, the sun bounced off sequined coats and glittering makeup, and the breeze lifted Pride flags overhead and others worn as capes. Someone in a bright pink jacket moved through the crowd offering Fruit Loop and Fruity Pebble marshmallow treats from Patches' Pastries. The crowd on the lawn beside Ferndale's Town Hall formed a circle for the Day of Non-Judgement organized by the local chapter of the Sisters of Perpetual Indulgence, who attended in their usual glammed-up parody of nun's habits and cornettes.
Photo by Mark McKenna
Sister Mary Magdalaid Me delivers a sermon on unconditional love at the Day of Non-Judgement.
The impetus for the event was Old Steeple canceling an all-ages Lost Coast Pride drag fundraiser out of safety concerns following Pastor Tyrel Bramwell's posting a message outside St. Mark's Lutheran Church telling people to "beware" of the event. However, as Ferndalians, clergy, LGBTQ+ folks and their loved ones took turns at the megaphone to speak, little mention was made of the pastor. Instead, as the Sisters knelt beside them, they mostly addressed the broader issues of anti-LGBTQ+ discrimination, harassment and violence, in the proverbial bucket of which Bramwell is a drop.
Kaelan "Papa K" Rivera, founder of Lost Coast Pride, thanked the crowd for coming "and supporting Ferndale," followed by attendees sharing messages of solidarity and support. A woman described her child living as "a girl at home and a boy at school," and being bullied out of wearing a beloved tutu before even reaching the cafeteria. The child, holding her hand, spoke up to correct her, saying, "I did make it to the cafeteria," to applause and calls of, "We love you."
Rev. Cindy Woods, Deacon of St. Alban's Episcopal Church in Arcata, told the crowd, "The church is welcoming," a message echoed by other clergy and members of local churches. Ashley London Bacchi announced her husband, Rev. Daniel London, was at that moment giving a sermon about inclusion at Christ Episcopal Church in Eureka.
Some spoke of their experience being excluded. "I cannot explain how hard it was to accept my queerness but also the struggles … of embracing that I am a person of faith," said one man. "Your faith belongs to you," he added. "We have always been here."
Another man, dressed in a canvas coat and dark ballcap, announced himself as a resident of Ferndale. "Ferndale is a welcoming place," he said. "And I see a lot of neighbors here … and if any of you feel threatened, there are people in Ferndale who are ready to protect you."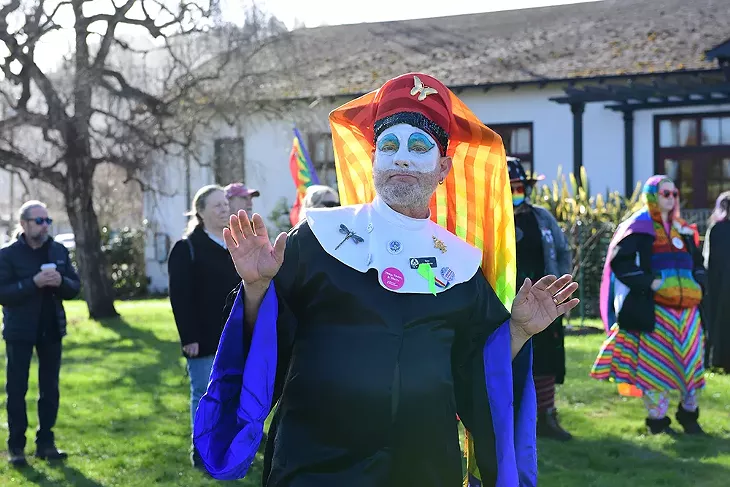 22 slides
Ben Graham, an associate professor in Cal Poly Humboldt's Psychology Department, struggled to speak about his student Camile Nauta, who died after a car struck them Jan. 17 in Arcata. As he closed his eyes to gather himself, Sister Faun D'Amen quietly told him, "You are loved," and Graham began talking about Nauta's life, their impact on him and their circle of supportive friends and family.
"Who am I," he asked, a little jar of lights with their name on it swinging from his hand. "Who am I to have seen Camille?" He expressed gratitude for the crowd and the community that welcomed them. "This is how we do it, this right here, today."
Sister Gaia T delivered a brief sermon in keeping with the theme of love, acceptance and non-judgement, as the other sisters swayed and called out in response, ending with the traditional "Ah-men, ah-women and ah-ll the rest of them."
Sister Faun D'Amen asked the people in the crowd to stop and appreciate their neighbors and themselves. He walked around the circle with a large, round mirror reflecting back on the attendees. "You are amazing, you are creative and you are beautiful human beings," he told them.
The Sisters shifted gears for a group sing-along to Johnny Cash's "Ring of Fire," with attendees reading the lyrics from photocopied handouts, stumbling a little here and there with lyrics and notes, but ending in cheers. The morning wrapped up with Queer Communion, which offered the option to be anointed with a "glitter blessing" or to receive a yellow and orange peach gummy ring as communion.
"We are so pleased with the number of people that have shown up," said Sister Faun D'Amen, whose glitter eyeshadow caught the light.
After the song and ceremony, the attendees hugged and waved goodbye to one another. They trailed off to their cars or walked home, their color and shine spreading out into the streets.
Jennifer Fumiko Cahill is a contributing editor at The Enterprise. Reach her at (707) 442-1400, extension 320, or jennifer@northcoastjournal.com.
<!———EndFragment———>