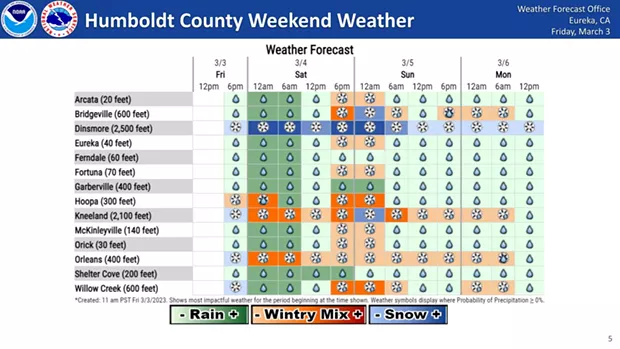 The National Weather Service's Eureka office is cautioning that heavy snowfall of "
at or above 1 inch per hour" is forecast to begin coming down on mountain roads and highway passes late tonight into tomorrow in Del Norte and Humboldt counties.

Meanwhile, coastal areas might once again get a dusting, with a winter weather advisory in effect March 4 from 4 a.m. to 10 p.m. before becoming a winter weather watch for areas below 1,000 feet in northern coastal Humbodt County.
According to the NWS, "heavy wet snow is possible" with total snow accumulations of up to 2 inches.
This new round comes on the heels of the Feb. 23 snow storm that blanketed the region from the mountains to the sea, leading to full closures of
State Route 299 multiple times between Feb. 23 and Feb. 28, while downed trees and power lines caused the a
gency to close U.S. Highway 101 several times over the same period.

The California Highway Patrol also reported numerous weather-related crashes on both highways, and pleaded with residents to refrain from traveling unless absolutely necessary.

To check the latest road conditions, click here.